The 'For The P*ssy/D*ck' Challenge Is The Latest Celebrity Internet Craze
4 October 2017, 10:54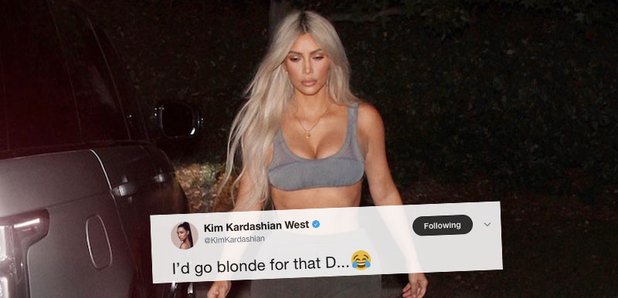 Watch all the best freestyles so far from the likes of Cardi B, Tyga, Erykah Badu and more.
The latest bizarre craze taking over social media in 2017 is the "for that d*ck" or "for the p*ssy" challenge.
The viral sensation, inspired by New Orleans rapper GameOva REEDY's freestyle, has seen artists including Cardi B, Tyga and Erykah Badu, rapping about their explicit desires over D4L's 'Geeked Up' instrumental.
Kim Kardashian tackled the challenge by posting an image of herself with platinum blonde locks, claiming her new dye-job was "for that D".
I'd go blonde for that D... pic.twitter.com/yRME6Hs65V

— Kim Kardashian West (@KimKardashian) 3 October 2017
On Monday (25th September), Erykah Badu posted an Instagram video of her attempt alongside comedian Michael Blackson.
Watch below:
"Give up my window seat for the dick/F*ck it, I'll eat meat for the d*ck," Erykah raps. "Fight Hurricane Maria for the d*ck/Ride a missile from Korea for the d*ck/Buck a b*tch in the head for the d*ck/F*ck woke, I'm dead for the d*ck."
After her challenge went viral, other celebrities have jumped on the craze including actresses Issa Rae and Regina Hall.
Watch the best celebrity challenges below:
Issa Rae and Regina Hall:
Had to do it with my girl, @MoreReginaHall.#ForTheDChallenge pic.twitter.com/nlRafF6dLC

— Issa Rae (@IssaRae) September 26, 2017
Cardi B:
21 Savage:
21 Savage and slaughtergang do the "For the P*ssy" challenge pic.twitter.com/JTtfeNJRBq

— DJ Akademiks (@IamAkademiks) September 26, 2017
Tyga:
Keke Palmer:
Nicki Minaj has also promised fans her very own version, which should be dropping very soon.
Oh u already know it's comin https://t.co/lAGytcqw1w

— NICKI MINAJ (@NICKIMINAJ) September 25, 2017