Jessie J And Ariana Grande Deny A 'The Boy Is Mine' Remake
25 November 2014, 10:39 | Updated: 10 May 2018, 11:44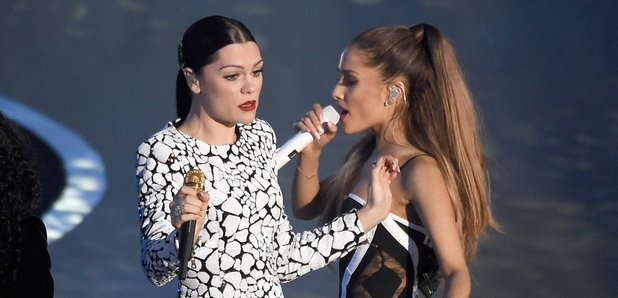 Everyone stop panicking.
Update
Jessie J has confirmed that she and Ariana Grande will not be recording a remake of Brandy and Monica's hit song 'The Boy Is Mine.'
The two stars were said to be putting together a remake of the classic 1990s track for a special project that producer Rodney 'Darkchild' Jerkins was working on.
"Neither of us have agreed" Jessie J said at the American Music Awards. "Sadly people are believing it. I spoke to Brandy and I was like, 'No, it's not happening'".
Everyone can breathe a sigh of relief.
12th November 2014
Jessie J and Ariana Grande are planning to do a remake of Monica and Brandy's classic 1998 hit song 'The Boy Is Mine.'
Music producer Rodney 'Darkchild' Jerkins dropped the news in a recent interview with hitsdailydouble, explaining that he is putting together a "special" project that will include some re-imagined hits, including an Ariana Grande and Jessie J remake of 'The Boy Is Mine.'
I don't deny that Jessie & Ariana have phenomenal voices but there is absolutely NO NEED for a remake of The Boy Is Mine. Abomination.

— Cath (@Catherrinnee) November 11, 2014
Ariana and jessie j to remake the boy is mine ? Absolutely NOT, no, nope. We don't want it, keep it and send it back to hell.

— * (@smoovetwiminal) November 11, 2014
If Pink and Christina Agublahblah didn't try to remake The Boy Is Mine, I don't know what makes Jessie J and Ariana feel like they can

— Bic Mitchum (@NobodyButNori) November 12, 2014
Jessie J and Ariana to remake The Boy is Mine?! pic.twitter.com/BQQRfNRJw6

— ❌. (@TheX_Files) November 11, 2014
Meanwhile, Darkchild also revealed that Sam Smith will be covering Whitney Houston's 'It's Not Right, But It's OK, on the forthcoming album. Seeing as Sam Smith did such an incredible job on the last Whitney hit he covered, there appears to have been few complaints on that front.