Apryl Jones Tells Lil Fizz She's "Pregnant" In New Love & Hip Hop Clip
29 October 2019, 11:43 | Updated: 29 October 2019, 12:25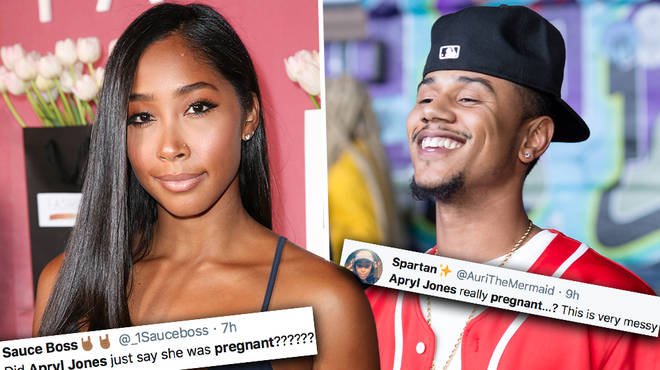 Omarion's baby mama, Apryl Jones, has told boyfriend Lil Fizz that she's pregnant in a new clip that has emerged online.
Lil Fizz and Apryl Jones recently admitted that they are in a relationship publicly on Love & Hip-Hop Hollywood. However, things have moved quickly since then.
Earlier today (Oct 29), reports emerged that Apryl Jones is pregnant by former B2K member Lil Fizz.
During recent episodes on L&HH, Apryl and Fizz have shared a kiss, and Fizz asked her to move in with him.
In a cliffhanger for the upcoming episode, Apryl dropped the news that discloses that she is pregnant to Fizz.
In the clip teasing the upcoming episode, Fizz's baby mama, Moniece Slaughter, uploads an Instagram video saying "Congratulations are in order for Apryl Jones and teeny fizzle pop".
The teaser for the next episode cuts to Apryl Jones talking about Fizz baby mama, alleging she is still in love with him.
Jones says "Sweetheart, you are still madly in love. Someone that don't having feelings for nobody, doesn't be doing all of this" referring to Moneice exposing the couple on Instagram.
Wait Apryl Jones, Omarion baby mama, is pregnant and dating Lil Fizz? Ain't no way this real lmaooooooo like whaaaaa

— 11/10♏️🦍 (@D_1andOnly_) July 2, 2019
Fans were completely taken by surprise with Apryl's pregnancy news, but they are finding it hard to believe it. Several fans believe that the reality stars are faking their pregnancy for show ratings.
A fan wrote, "This fake "pregnant" shit Apryl got going on is bulls**t. They're doing/saying anything for ratings and it's sad! #LHHH".
While many fans believe the storyline is for ratings, other fans believe Apryl is really pregnant. One fan on Twitter wrote "So is Apryl Jones pregnant by Lil Fizz for real? Just throw both of they asses away."
See other fan reactions below.