Anderson .Paak Fans Left Furious After His London Tickets Sell Out In Seconds
9 March 2018, 10:27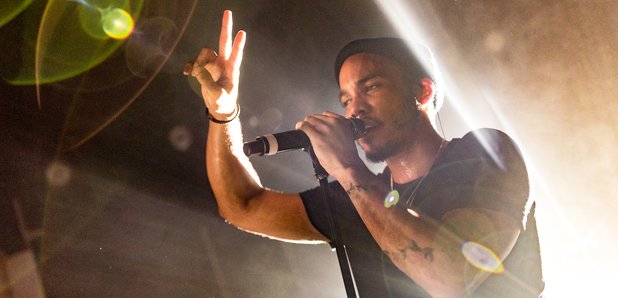 Did you try and cop a pair?
Fans of Anderson .Paak have been left disappointed after tickets to his free concert next week sold out within seconds.
Apple Music announced just yesterday that the streaming service will be sponsoring a completely free show at London's Brixton Academy on Tuesday 13th March.
Tickets for the one-night only concert, which is being presented by Dr. Dre, went on sale at 9am this morning but seemingly sold out within seconds of going live on Ticketmaster.
Fans of the R&B singer-rapper took to social media to share their frustration in the wake of the sell-out, with many accusing bots of nabbing tickets.
Many directed their anger towards the ticketing website after failing to score tickets to the 5000-seat venue, with some suggesting that there wasn't even enough tickets to go around.
@TicketmasterUK were there actual tickets for @AndersonPaak because there is no way you could sell out 5000 tickets in 1min.. I mean come on

— Jeff Smith (@KwajoAppiah) 9 March 2018
Hey @AppleMusic i hope all those spam bots enjoy those Anderson .Paak tickets

— Joshua Scott (@Joshyouarescott) 9 March 2018
When you get through to the final page for Anderson .Paak tickets at @O2academybrix and you then get an error message. Cheers @TicketmasterUK pic.twitter.com/LMrCHB20ty

— Adam Smith (@OhAdamSmith) 9 March 2018
I had Anderson Paak tickets in my basket it timed out because ticketmaster wasn't recognising my card details (for a FREE concert?!?) so fuck ticketmaster basically

— brooke (@MarryTheSequins) 9 March 2018
I woke up early for this shit How can the tickets sell out 9am on the dot please!? #AndersonPaak #ticketmaster

— Lisa (@LOL_LISAA) 9 March 2018
@TicketmasterCS @TicketmasterUK I was logged in and had the page counting down for 2 hours....I don't believe all 5k tickets for @AndersonPaak and @freenationalsXX sold out instantly pic.twitter.com/yTY6tLGeVJ

— Mase (@MaseTMT) 9 March 2018
Go out and then stay up all night to get @AndersonPaak tickets in the morning, get thru and secure tickets and then every card I have or added gets declined even tho it's a free concert?? Nice one @TicketmasterUK

— deep (@amandeepsansoa) 9 March 2018
hahah @TicketmasterCS your mentions must be WILD right now. tbh though not sure how almost 5k @AndersonPaak tickets can fly out within seconds so you do have some explaining to do 'cause i ain't buying free tickets off no touts xx

— josh or something idk (@joshwhittle) 9 March 2018
@ticketmasterUK have a lot to answer for. Event 'sold out' in 1 second. 4 minutes later I get allocated 2 tickets only for the website to time out, then 'sorry something went wrong'. #embarrassing

— Dan West (@DanyeWest82) 9 March 2018
Ticketmaster are yet to respond to the criticism.
Meanwhile, Anderson .Paak recently dropped a new song 'Til It's Over', which debuted in the advert for Apple Music's latest product, the Home Pod, which starred fellow singer FKA Twigs.
The R&B crooner also featured on the soundtrack to Marvel's groundbreaking superhero film 'Black Panther'.