Amber Rose And Amy Schumer Took Their Kiss Cam Moment Very Seriously At The MTV Movie Awards
13 April 2015, 12:26 | Updated: 13 April 2015, 12:50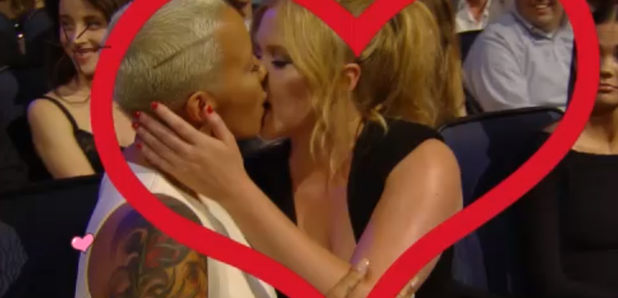 Watch what happened.
Amber Rose was the talk of the 2015 MTV Movie Awards last night (12th April) after the 'Kiss Cam' landed on her and she took her responsibility very, very seriously.
The model was sat next to US comedian Amy Schumer when the camera, which sweeps the room and lands on random couples in the audiences, fell on them.
The idea is that the two people shown on screen give each other a peck on the lips and it moves on to the next pair. But Amber and Amy, being the good sports they are, took their job more seriously than that, having a full-blown steamy kiss on camera.
Watch the moment below:
Just in case you missed that....
Last week Amber Rose wrote an open letter to her ex-husband Wiz Khalifa in an emotional Instagram post. The 31-year-old mum admitted that she still loved her ex and isn't happy without him.