21 Savage Responds To Amber Rose's 'Slutwalk' Ridicule: "Get Off My D**k"
3 October 2017, 10:26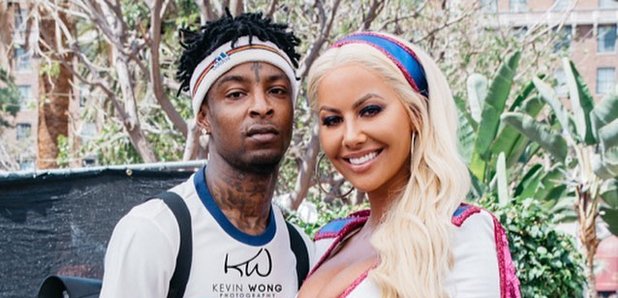 The rapper faced backlash online for his appearance.
21 Savage has a message for the online trolls who made fun of him for supporting his girlfriend, Amber Rose, at her third annual 'Slutwalk'.
The rapper took to the streets alongside Rose and hundreds of supporters in Los Angeles this week to raise awareness about gender inequality and sexual injustice.
While Amber wore a "Captain Save a Hoe" superhero costume, Savage wore a rainbow-coloured T-Shirt and was pictured proudly holding a placard reading "I'm A Hoe Too".
21 Savage in the sunken place pic.twitter.com/DmFEpiOhEt

— RealTrapQueenofSZN (@MadamMoney058) 1 October 2017
I appreciate the intent but I can't stop laughing at 21 Savage holding that "I'm A Hoe Too" sign pic.twitter.com/KOOCWG76sm

— Sylvia Obell (@SylviaObell) 2 October 2017
The images prompted online ridicule from Internet users who began questioning the 'Bank Account' rapper's masculinity.
In response, Savage took to Instagram to deliver a message to his haters.
"Y'all need to get off a n**** d**k. Get off my d**k," he said, as Amber can be heard saying "Get off your b***h d**k too" in the background.
"Yeah, get off my b***h d**k too. The SlutWalk was fun than a mothaf****r" he adds.
Amber followed up Savage with her own response to the online jokers.
"How the f**k is my man not a savage anymore?" the social media personality asked in her Instagram Story.
"Like, do y'all want him to pistol whip me? Beat me up? Shoot up the SlutWalk? Like, what the f**k do y'all want?"
Meanwhile, 21's recent collaboration with Post Malone, 'rockstar', is achieving a great deal of success.
The song debuted at number one on Billboard's Streaming Songs and On-Demand Streaming Songs charts.