Benzi Drops 'Get Right Radio' (Summer Edition) Mixtape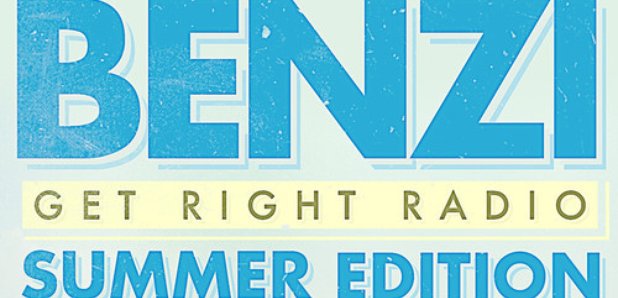 Listen to the DJ and producer's infectious summer compilation.
It's been a summer to remember; long hot days and even hotter nights! And what better way to remincence than listen to this summer edition of Benzi's jackin' 'Get Right Radio' mixtape.
Everyone who's everyone is one tracklist - from Disclosure and AlunaGeorge's 'White Noise' to Kendrick Lamar. Get involved, turn it up loud and let the summer memories flood back!
Tracklisting:
Justin Timberlake – Senorita (Trippy Turtle Remix)
INOJ – Love You Down (eSenTRIK VIP Remix)
TLC – Creep (Belanger Edit)
Jodeci – Freak'n You (Marcus Jakes Remix)
Disclosure & Aluna George – White Noise
ToyBoy & Robin – Jaded
DJR – Luv 4 Me
Breach – Jack (Bark Lee Remix)
Le Youth – Cool (DJ Sliink Remix)
Keys N Krates – Treat Me Right (Grandtheft Remix)
Dilligas & Trillville – Slow Things Down (Benzi Edit)
Lorde – Royals
Young Jeezy & Mannie Fresh – And Then What
Webbie & Bun B – Gimmie That
Kendrick Lamar – Backseat Freestyle
TWRK – Nolia (VIP Edit)
TeeFLii – This Dick
Diplo – Express Yourself (J.Espinosa Edit)
Grandtheft & Skratch Bastid – Miley
B.o.B & 2 Chainz – HeadBand (Lambo & TWRK Edit)
LL Cool J – Doin' It (Jesse Slayter Remix)
Yellow Claw & Yung Felix – Dancefloor Champion
TWRK & 4Korners – Work
DJ Mustard & TY$ – Paranoid
Major Lazer, Bruno Mars, & 2 Chainz – Bubble Butt (Topsider Edit)
Ice Cube & Das Efx – Check Yourself Remix
Missy Elliot – Work It
Diplo & GTA – Boy Oh Boy (eSenTRIK Edit)
Major Lazer – Watch Out For This (Ape Drums x Rajeev Gualtiero Remix)
Ciara – Goodies (Kid Kamillion Remix)
2pac & Nate Dogg – All About U
Wreckx-N-Effect – Rump Shaker (Benzi Edit)
Lana Del Rey & Cedric Gervais – Summertime Sadness (ETC!ETC! Remix)
Riff Raff – Dolce & Gabbana
Rich Homie Quan – Type Of Way
Jay-Z & Rick Ross – F*ckWithMeYouKnowIGotIt
Migos & Drake – Versace Remix
A-Trak & GTA – Landline 2.0
Kanye West – Can't Tell Me Nothing (i.V. Remix)
Chuckie & Lupe Fiasco – Makin' Papers
Jay-Z – Tom Ford (Play N Skillz Remix)
Tinie Tempah & 2 Chainz – Trampoline
Lil Wayne & The Flexican – A Millie (Benzi Edit)
Drake – The Motion