ROLES XPOSED: Being A Deputy Managing Editor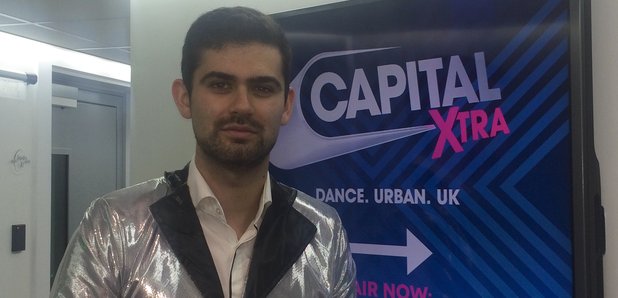 Find out what the Deputy Managing Editor for Capital XTRA gets up to and how he got his first step in radio.
A Managing Editor is one of the most important roles in radio and is like the glue that holds things together. We caught up with Capital XTRA's Deputy Managing Editor, Al Smith, to ask a few questions about his role and how he finds working in radio.
1. What is a Deputy Managing Editor and what do they do?
This won't be the case for every Deputy Managing Editor in the business, but just because of the fact that we've got a small team, the people that we have, have to do lots of different things.
Previous to this role, I was a radio producer and I've maintained a lot of that role as part of my current one, it's the most important part.
Now that I am across the management of the radio station, aside from the music it's all about the presentation as well. It's about everything that comes out of the speakers, so I now spend a lot more time with our presenters, coaching them and guiding them as to how we want the station to sound. I also guide the producers and make sure we're all singing off the same hymn sheet and that we know what we're doing with the station.
2. How did you come about the role?
I first came to Global for my work experience for XFM, which is now Radio X, back when I finished my GCSE's, which was meant to last a week however I stayed for a month as I loved it so much.
I ended up coming back the next year and kept in touch with the radio producers who helped me get back in and I was offered a full time intern role for their breakfast show. All it takes is for somebody to be off from a shift and for you to pop up in his or her mind. When they asked me if I could help out due to someone being ill, I said I could, even though I didn't know what I was doing but I learnt on the job very quickly and that became a full time role.
About three and a half years ago, I joined the permanent team and I've worked tirelessly ever since to get my skill set up to where it needs to be to be able to cover all the roles I mentioned before. The manager of Capital XTRA then moved on last year and I was offered the position.
3. What other roles in radio do you work with?

I work in programming, that's to do with what comes out of the speakers day-to-day. Everything else that comes from the station that isn't music and presentation is with external teams.
There's a marketing team, so I would spend a lot of time with Callum, our head of marketing, and talk about ways that we can get the Capital XTRA brand name out there. At the moment, we're in talks with the NBA, so we will talk about what they're doing on-air and in return they will put our logo up at some of their events.
I liaise with our commercial programming team to make sure anything outside of the main adverts is implemented correctly.
4. What are the 3 most important things for someone trying to be successful in radio to remember ?

I'd say the first thing is passion, you've got to love it, you've got to really want it and have an interest in it.
The second thing would be knowledge, and that comes from the interest and passion. If you're going to come into a radio station and do an internship or work experience, you have to demonstrate that you care enough about that placement by showing them that you know about that radio station. If you're genuinely interested you will take the time out to do the research on the background of the station, and it can take you a long way.
The third one is persistence. A part of the story I left out earlier was that I had to ring this building every day for a month before someone finally answered my call to come in. I applied for other stations that turned me down before I came here. Once you've got your foot in the door and you've met some people, you have to strike a balance very carefully between making it clear what you want without pestering and annoying people.
It's a hard one, however you won't have to pester for as long if you can display passion and knowledge.
5. What has been your greatest achievement in the role?

For me, being in commercial radio, it's all about the numbers ultimately. I'm very proud that since working on Capital XTRA we've gone up in listeners 6 times in a row now, and each time for the last 3-4 times it has been a record high. I want to make it bigger and bigger, I've got a lot more to achieve.
6. What has been your biggest challenge in the role?

For me, I always want the next thing and I have to take moments occasionally to force myself to appreciate where I've got so far and that what I'm doing is great.
It's very difficult when you're surrounded by so many radio stations and opportunities to think 'I would love to do that next', when you've only been doing what you're doing for a minute.
I need to constantly remind myself that there's work to do now, rather than what I would like to be doing tomorrow.
7. Where do you look to take your career in the future?

Well I love radio, I always have and hopefully I always will. I find radio now, in a position more difficult than it's ever been in. It's fought off so many challenges to its existence over the years; TV being a major one, the internet, and now streaming is a big thorn in our side, so in my future I want to be defined by making sure that radio stays relevant.
8. What are your favourite things to do outside of radio?

If I take music and radio out of the equation, it's not exactly exciting but it is the gym and trying to make time to do things that are sports based.
Other than that I'm a big fan of people and socialising (I hate that word) but a lot of the time even that still ends up being music related somehow. Gigs and meeting with people that still relate to music and radio take up a lot of my time.
When I have some time to myself I like to do a bit of cooking.