M.O & Not3s - Your 2018 Ambassadors
2 May 2018, 14:52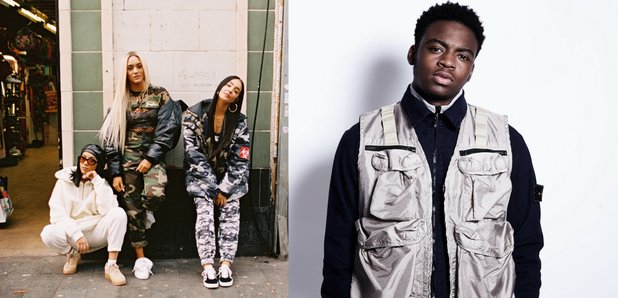 Meet your ambassadors!
Let us introduce you to Annie, Chanal and Nadine who make up the group M.O! In case you hadn't heard, they are Music Potential Ambassadors for 2018.
M.O. stands for 'Modus Operandi' meaning "a particular way to do something" - and we hope they keep doing that something because they're making waves at the moment. The group teamed up with Birmingham's Lotto Boyzz and Nigerian star, Mr. Eazi to form one of the hottest collaborations of the year with 'Bad Vibe', adding to their UK Top 20, certified Gold-selling hit, 'Who Do You Think Of'. We have their tunes on repeat and we can't get enough of their style.
As Music Potential Ambassadors, the girls have been getting involved with some of the projects which train young people to develop the skills needed to embrace their talent and enhance their employability prospects. This week M.O paid a visit to a group of young people who had curated a social media plan, photoshoot and behind the scenes videos for the trio. M.O then took part in a Q&A which answered questions about their career, the industry and what it means to be Ambassadors for Music Potential!
Take note, our next Music Potential Ambassador is the man himself, Not3s!
Not3s has been writing music since he was in primary school and is 100% committed to his craft. He recalls 'I would be in the studio from 4pm until 8am, just stupid times. That was me making music, I had nobody, no friend, no nothing.' There's no surprise that he's had some of the biggest tunes of the past year; 'Addison Lee' was an immediate hit, 'Aladdin' and 'My Lover' came after and didn't disappoint.
Not3s told us that his name means 3 things to him; 'money notes, music notes and take note of me' - as a Music Potential Ambassador, we know this will inspire so many young people on the programme who are working towards a career in the creative industry.
We want to say a huge thank you to M.O and Not3s for getting involved and inspiring so many people with their achievements and talent as Ambassadors.
If you'd like to see M.O, Not3s and Music Potential's up and coming artists perform live, make your way to UNLEASHED at KOKO, Camden on 31st May. An event not to be missed, UNLEASHED is an epic night of live music and DJ's hosted by Capital XTRA's very own Jay London and Toni Phillips.
This exclusive event is FREE and not one to be missed. Grab tickets for you and your friends here, before it's too late! Tickets will not be available on the door.