Get To Know Music Potential Ambassadors WSTRN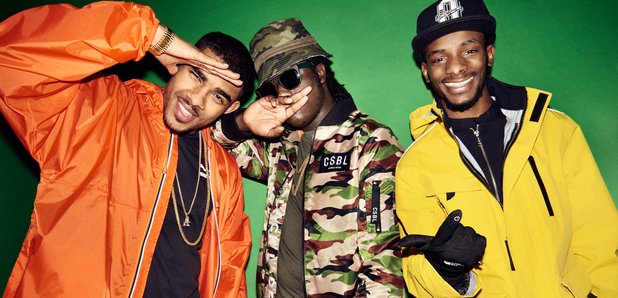 Get To Know WSTRN
WSTRN blasted onto the scene with their smash hit 'In2'. Generating a buzz on the underground they were picked up and signed to Atlantic, propelling their single straight in2 the UK Top 10. Made up of cousins Akelle Charles and Haile plus friend Louis, the trio are set to continue to take 2016 by storm. We sat down with Music Potential Ambassadors WSTRN to find out a little bit more about them.
How did you all first get into Music?
Akelle: Music has always been in me. Haile and my dad were in a reggae group together and it's just been passed down to us. When they realised we had a bit of talent they started to focus on developing us.
Haile: Having our dads in a reggae band meant I was surrounded by reggae growing up. I got to experience different genres and was able to merge all the sounds together.
Louis: I sort of unknowingly developed my craft. My mum used to play lots of music when we were in the car. One day, my dad wrote me a rap and I performed it in school. The reaction I got from everyone just gave me a buzz and I carried on from there.
How did WSTRN form?
Akelle: We literally formed because of the effect 'In2' had on people and we had to come up with a name as a collective. We basically went studio to just chill and then Haile started working on the 'In2' hook. We put 'In2' aside as we didn't think it was a no.1 and carried on making more tunes together. Then I gave it to a DJ friend of mine who played it on the radio. More DJs started to play it and then the rest is history.
How did it feel to get a Top 5 hit with your first single 'In2'?
Akelle: Even now it's still crazy! We still don't believe it!
Louis: It's humbling, I feel like we've stepped into a new realm of life.
What has been you career highlight so far?
Akelle: Has to be Wembley!
Louis:1,000,000%! It was Capital's Summer Time Ball. I was almost late today because I kept watching it back!
Who would you say is your inspiration?
Akelle: It's hard to choose just one person but Lauryn Hill would definitely be one of them.
Haile: Michael Jackson.
Louis: A rapper called Max B.
What is the hardest part about being in a group?
Louis: I'm happy that I'm in a group, I don't think I could do it on my own.
Akelle: I don't think there is any hard part!
What is the best part about being in a group?
Akelle: It's that we've got each other's back.
Louis: We get to share all of our experiences and some of those experiences are really daunting... like Wembley. But I knew there was 3 chances someone might fall down the stage stairs so that made me feel ok!
Do you think Music Potential would have helped you 5 years ago?
Akelle: Yeah, there wasn't anything like this when we were growing up.
Louis: We've definitely had to find our way through trial and error and this is a way to help the next generation to be that little bit better.
What is your top tip for making it in the music industry?
Akelle: Have patience and persistence.
Louis: Nothing really happens before it's time and just be true to yourself.
Haile: Keep doing you and don't watch what anyone else is doing.
What's next for WSTRN?
Louis: We're fine tuning the album at the moment. We want to do a headline tour and be as interactive as we can with our fans.
Akelle: Just keep on releasing tunes where we can so people can follow our journey.