Corrine Smith: Anne-Marie Remix Competition Winner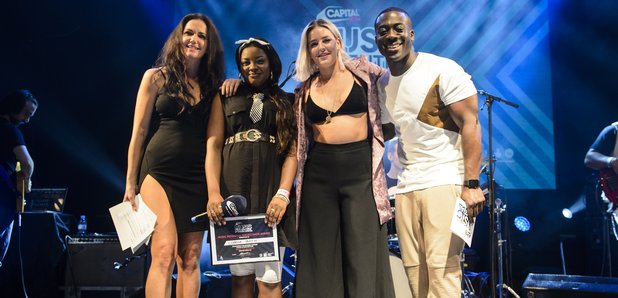 Find out about the winner of Anne-Marie's Remix Competition
Corrine Smith is an emerging music producer who won Music Potential's Remix competition. The Music Production groups in London & Birmingham were set the challenge of remixing Anne-Marie's 'Alarm' with Anne-Marie shortlisting her three favourite remixes.
It was up to the public to vote for the lucky winner via the Capital XTRA website, with the successful producer receiving their award from Anne-Marie live on stage at 'UNLEASHED'.
Corrine spoke to us about how it felt to win the remix competition, the thought process behind her remix and what inspired her to become a producer.
How did it feel to win the Anne-Marie remix competition at Unleashed?
I was excited and shocked! I felt ecstatic because I didn't think I would win. I never entered the competition expecting to win as there were so many good producers in Music Production, some who were already established, so it was a great feeling.
Why did you decide to enter the remix competition?
I decided to enter the remix competition to just give it a go and try something new. I wasn't used to making remixes for songs but we were taught how to use samples and rearrange instrumentals in our music production class so I thought I might aswell give it a try.
What was the thought process behind your remix?
Initially, I wanted to make it a reggae or drum & bass remix. I was going to make two different remixes and ask my tutor for feedback but with the deadline fast approaching, I decided to just make one. I still used reggae chords to give it a funky twist and I also included strings on the remix because I love the sound they make. Everyone was making grime or hip hop remixes but I just wanted mine to be totally different.
What inspired you to become a Music Producer?
I've always loved music. In primary school, I started playing the recorder and when I went to secondary, I learnt to play the violin. It was after this that I was introduced to production software Reason and I haven't looked back since.
How would you describe your production style?
I love melodies with strings. I don't pick a specific genre when making music, I just go with the flow and whatever inspiration comes my way, I just go along with that.
Who would you say are your musical influences?
I would say my influences are Anne-Marie, Ed Sheeran and India Irie because their music has a meaning. Their music has sentimental value which I can relate to. Timbaland as well, as he is one of the best producers in the world and Missy Elliot, who always does things her own way.
Do you feel that female music producers like yourself aren't given much coverage as males?
People see music as a male dominated field. In school, I always used to say I want to become a music producer but people would put me down saying, I won't make it as a female producer, I should try being a singer, which is sad but I think it is time female producers get the credit they deserve.
Where do you see yourself in 5 years' time?
I just want to go with the flow and see where it takes me. I suffer from an illness called Fibromyalglia which leaves me in a negative state and a depressed mood. It is an illness that many people cannot relate to so sometimes I feel hurt knowing no one really understands but music is the way I relieve my frustration. In 5 years' time, I want to be able to balance my illness with my music career, create more music and collaborate with more artists.
What one piece of advice would you give to emerging producers like yourself?
Just keep at it and don't listen to negative people. Also, don't delete your old beats because it doesn't sound good, always keep them as you can always improve them later on but ultimately just keep striving.
Have a listen to Corrine Smith's winning remix of 'Alarm' below!
Follow Corrine!
Twitter: @YoungDymisty
Soundcloud: www.soundcloud.com/young-dymisty