50 songs turning 10 years old in 2020: from Rihanna to Usher
5 August 2020, 15:39 | Updated: 7 August 2020, 14:17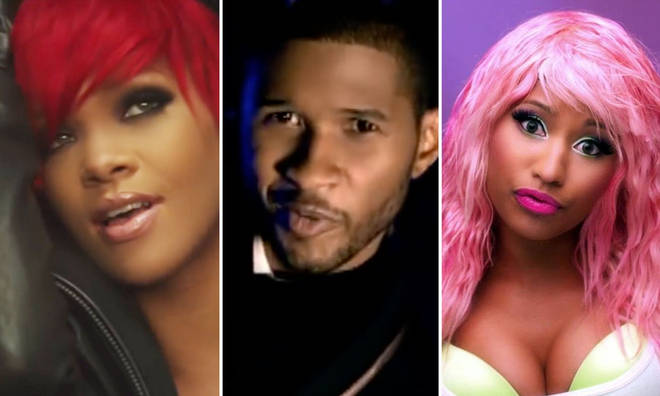 Featuring chart-topping tracks from your favourite 2010 hitmakers including Eminem, Rihanna, Usher, Drake and more.
As we roll into another decade, we can't help but take a look back on the best and biggest songs that kickstarted the 2010's.
From red-headed Rihanna's iconic 'Loud' era and Nicki Minaj's bubblegum catapult into superstardom to Eminem's hit album 'Recovery' and the beginning of Bruno Mars' long-running chart reign - 2010 was a pretty epic year.
Press play and get ready for a huge hit of nostalgia.
Eminem feat. Rihanna - 'Love The Way You Lie'

Nicki Minaj - 'Super Bass'

Shontelle - 'Impossible'

Usher feat. Pitbull - 'DJ Got Us Fallin' In Love'

Wiz Khalifa - 'Black And Yellow'

Rihanna - 'Only Girl In The World'

Drake - 'Find Your Love'

Kanye West feat. Pusha T - 'Runaway'

Trey Songz feat. Nicki Minaj - 'Bottoms Up'

Travie McCoy feat. Bruno Mars - 'Billionaire'

Eminem - 'Not Afraid'

B.o.B feat. Hayley Williams - 'Airplanes'

Jason Derulo - 'Ridin' Solo'

Usher feat. will.i.am - 'OMG'

Taio Cruz - 'Dynamite'

David Guetta feat. Rihanna - 'Who's That Chick?'

Ne-Yo - 'Beautiful Monster'

Cee Lo Green - 'Forget You'

Bruno Mars - 'Just The Way You Are'

Tinie Tempah - 'Pass Out'

Far East Movement feat. The Cataracs, DEV - 'Like A G6'

Roll Deep - 'Good Times'

Katy B - 'Katy On a Mission'

Flo Rida feat. David Guetta - 'Club Can't Handle Me'

Shakira - 'Waka Waka (This Time for Africa)'

Timbaland feat. Justin Timberlake - 'Carry Out'

Nelly - 'Just A Dream'

Nicki Minaj feat. Drake - 'Moment 4 Life'

Rihanna feat. Drake - 'What's My Name?'

Kanye West - 'Power'

Chris Brown feat. Tyga, Kevin McCall- 'Deuces' (Explicit Version)

B.o.B feat. Bruno - 'Nothin' On You'

DJ Zinc feat. Ms Dynamite – 'Wile Out'

Keri Hilson - 'Pretty Girl Rock'

Alexis Jordan - 'Happiness'

Tinchy Stryder feat. Giggs, Professor Green, Tinie Tempah, Devlin, Example & Chipmunk - 'Game Over'

Ciara feat. Ludacris - 'Ride'

T.I. feat. Chris Brown - 'Get Back Up'

Example - 'Kickstarts'

Tinie Tempah feat. Labrinth - 'Frisky'

Alicia Keys feat. Drake - 'Un-Thinkable (I'm Ready) Remix'

DJ Fresh - 'Gold Dust'

Roll Deep - 'Green Light'

Beyoncé - 'Why Don't You Love Me'

Jay Z - 'Forever Young'

JLS - 'Beat Again'

Kelly Rowland feat. David Guetta - 'Commander'

Kelis - 'Acapella'

The Black Eyed Peas - 'Meet Me Halfway'

Professor Green feat. Lily Allen - 'Just Be Good To Green'