Saweetie dating history: her boyfriends and exes from Quavo to YG
31 May 2023, 12:27 | Updated: 31 May 2023, 12:35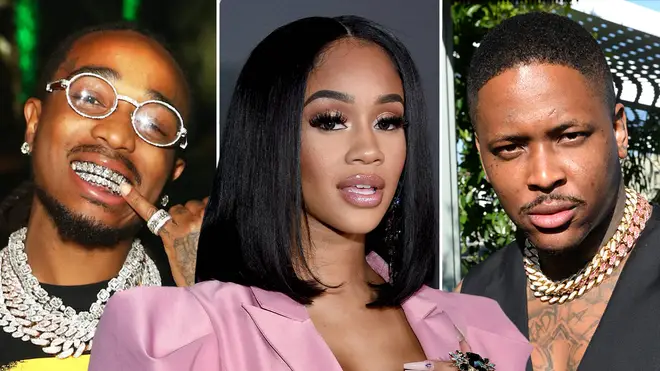 Who is Saweetie dating in 2021? Does she have a boyfriend and who are her ex-boyfriends?
Saweetie is rumoured to be dating rapper YG, after the Bay Area rapstress was spotted on a cosy vacation with the musician in Cabo.
One of her most high profile relationships was with Migos rapper Quavo. The Icy Girl and her former Glacier Boy first got together in 2018, and appeared to be going strong until their surprise break-up in March 2021.
Saweetie, whose real name is Diamonté Quiava Valentin Harper, has been romantically linked to a number of famous faces in the past, and since her split from Quavo.
Here's a comprehensive list of Saweetie's ex-boyfriends.
YG

YG and Saweetie are rumoured to be dating. (Pictured here with A$AP Ferg, Tyga and Mustard in March 2023.). Picture: Getty

Saweetie confirmed her romance with rapper YG in May 2023 during a loved up trip to Cabo.

The pair were photographed looking very cosy in a swimming pool during a vacation together, with Saweetie looking stunning in a pink bikini.

Speculation surrounding their dalliance kicked off back in April after they were spotted together at Coachella.

Lil Baby

Lil Baby. Picture: Getty

Saweetie and Lil Baby have sparked dating rumours after it was reported the pair were getting cozy on a New York outing together.

According to Hollywood Unlocked sources claim the pair were on a shopping spree in New York, adding that Lil Baby dropped $100k on the rapstress.

The publications sources claim security footage saw the pair together at the Chanel store. Saweetie had been in New York performing on Saturday Night Live.

Saweetie sent social media into a frenzy after speculating that her and Lil Baby are hip-hop's latest couple after she posted a photo of her sitting on a mysterious guys lap.

In the now-deleted post, the x2 GRAMMY nominations rapper's fan scouted social media in an attempt to find out who she's was sitting cuddly with. Showing himself wearing the same outfit as the one in picture, fans uncovered that it was indeed Lil Baby.

Lil Baby has since responded (in now deleted tweets) to the rumours that he's dating Saweetie tweeting: "If you want clout use BABY, B*tches really be weird !!. Baby not dating NO ONE!! I'm single!".

Damson Idris

Saweetie was romantically linked to Damson Idris after she was spotted at his house. Picture: Getty

On Monday (Nov 8) Damson Idris took to his Instagram stories to share a cosy video of Saweetie giving him piano lessons.

"My teacher," Damson wrote alongside the video.

At the end of his Instagram Story, Damson can be heard saying: "I wish I could play."

Saweetie then reposted the same clip on her own Instagram, which further spurred on the dating rumours.

Jack Harlow

Jack Harlow and Saweetie shared a flirty exchange at the BET Awards 2021. Picture: Getty

Saweetie and fellow rapper Jack Harlow sparked romance rumours after sharing a flirty exchange at the BET Awards 2021.

While being interviewed on the red carpet, Saweetie was approached by Harlow who shook her hand and introduced himself. Was Jack shooting his shot at the Bay Area beauty?

Well, even though Harlow later claimed the pair were just on "friend vibes", fans and social media users started shipping them and praised Harlow for his gentlemanly introduction.

James Harden

Saweetie was romantically linked to basketball player James Harden a few months after her split from Quavo. Picture: Getty

In June 2021, Saweetie was romantically linked to professional basketball player James Harden after a number of tweets suggested that the pair were dating, shortly after her split from Quavo.

One tweet in particular allegedly caught the eye of the Quavo's fellow Migos member and cousin Offset, who was said to have liked a tweet reading, "now why tf are people saying saweetie and james harden fw each other..."

"saweetie dating james harden now," wrote another, "i know thats right!!!"

Sweetie and James are yet to comment on the speculation.

Quavo

Saweetie and Quavo have been dating since 2018. Picture: Getty

Saweetie and Quavo dated for three years until their split in March 2021. Saweetie appeared to insinuate that Quavo had been unfaithful in a series of tweets.

Quavo had previously revealed that he jumped in her Instagram DMs in March 2018 to shoot his shot with the rapstress with a reference to her hit single 'ICY GRL'.

He sent her a snowflake emoji, to which she replied with a bowl of noodles, a reference to the Migos single 'Stir Fry'.

Quavo hit back, "u so icy Ima glacier boy," before Saweetie replied, "was hannin then." And the rest was history.

The pair were often seen cosying up together on red carpets, and were known for showing their affection towards each other through lavish gifts.

In December 2020, Saweetie gifted Quavo a rare Richard Millie watch worth $300,000 for Christmas. In return, Quavo gave his girl a brand new white Bentley.

Three months later, Saweetie made a surprising revelation about her relationship with Quavo during an appearance on Respectfully Justin, a show hosted by her ex-boyfriend Justin Combs.

"And because he doin' everything right, I'm gonna give him the honour of pickin' the n***a we havin' a threesome with," she said, much to the shock of everyone in the room.

Justin Combs

Saweetie dated Justin Combs following her split from Keith Powers. Picture: Getty

Saweetie reportedly began dating Justin Combs - the son of music mogul Diddy - in the summer of 2016, while Saweetie was still a student at the University of Southern California.

It's unclear how long the pair dated, and neither party have ever confirmed the reason behind their breakup.

However, it has been reported that Justin allegedly left the rapper for another girl named Aaleeyah Petty.

Keith Powers

Saweetie dated actor Keith Powers for four years.

Picture: Instagram

Saweetie dated American actor Keith Powers, best known for his roles as Ronnie Devoe in 'The New Edition Story' and Tyree in 'Straight Outta Compton', for four years before their breakup in 2014.

The rapper has allegedly referenced her relationship with Powers in some of her early material, while Powers would later say that their relationship became "toxic".

"I was in a relationship for four years from like, 18 to 22," he told Hollywood Unlocked two years after the split, "We separated because it was just too toxic."

Powers went on to date singer and actress Ryan Destiny. The pair have been dating since 2017.