17 Old Tweets From Rappers & Singers That Are Definitely Still Worth A Retweet
11 May 2018, 13:44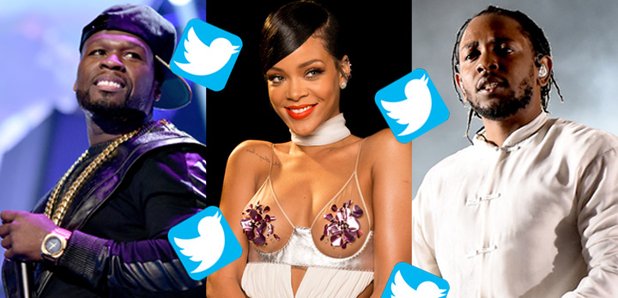 We've been digging into the archives of your favourite artists Twitter accounts and found some gems.
Cast your mind back to something you tweeted about seven years ago, and you're more than likely going to cringe at the sort of thing 'Past You' was going on about.
Luckily for us average Twitter users, it's unlikely that anyone is going to start digging around our old archives any time soon - for celebrities, however, it's different story.
We've compiled a list of the funniest, wildest, most random and even self-fulfilling Tweets from our favourite rappers and singers that are just too good to forget about.
And definitely still worth a retweet.
50 Cent was not here for chores.
I can't belive my grand mothers making me take Out the garbage I'm rich fuck this I'm going home I don't need this shit

— 50cent (@50cent) 26 August 2010
The struggle for Lil Jon was real.
WAS RUSHIN HOME TO TAKE A DUMP AND GOT CAUGHT BEHIND A SCHOOL BUS DROPPIN KIDS OFF!! LONGEST 30MINS OF MY LIFFFEEEE!!

— LILJON (@LilJon) 28 September 2010
Thanks for clarifying, Shaq.
im at knots berry farms n my butts 2 big 2 fit in da seats on ride. ahhhhhh (dats me yellin)

— SHAQ (@SHAQ) 20 August 2009
Nicki Minaj was asking the real questions.
ok boys, what's your ball size?

— NICKI MINAJ (@NICKIMINAJ) 28 April 2013
Well, Mariah...
4:20..how is everyone?

— Mariah Carey (@MariahCarey) 18 June 2009
Five Grammy nominations later! Khalid knew his destiny.
I want to go to the Grammys one day.

— Khalid (@thegreatkhalid) 27 January 2014
Same, Eminem.
RtthghfhyhyhfdyhjgjuheydhdtwyterghdhghGddghsdehjrurheryeHJfkwuhDhJee

— Marshall Mathers (@Eminem) 22 June 2010
Instant Rihtweet.
FUCK U SATAN!!! Fuck right off!!!!!

— Rihanna (@rihanna) 1 February 2012
Another important question, courtesy of 2010 Ashanti.
How many ladies aint scared 2 fart in front of ur man?

— ASHANTI (@ashanti) 2 October 2010
French Montana with the fire insults.
U unwavey creature

— French Montana (@FrencHMonTanA) 6 April 2012
Easter was a confusing time for Schoolboy Q.
I don't get it so wHen Jesus came back it was in a EGG??? dat came from a bunny?? I'm lost rigHtnow

— ScHoolboy Q (@ScHoolboyQ) 20 April 2014
Seriously though, is Shaq okay?
How u like my con shaqt lenses get it lol pic.twitter.com/KiNPwBkF

— SHAQ (@SHAQ) 3 September 2012
Thanks to Kendrick, we can breathe again.
Keep calm. All is well.

— Kendrick Lamar (@kendricklamar) March 16, 2015
Where was Rick Ross in 2014?
City full of cinematic sexy bitches

— Yung Rénzél (@RickRoss) 20 May 2014
Diddy has been motivating/oversharing since '09.
Is still up having
Tantric sex! 12 hrs and counting!!!!
Let's go people!!!! You can do it! Just relax!! Lol

— Diddy (@Diddy) 2 May 2009
Someone answer Ed Sheeran, please.
why does some water taste better than other water?

— Ed Sheeran (@edsheeran) 8 December 2009
And finally, one from Meek Mill #OMG!!!!.
50 AND MAYWETHER DISRESPECTED DA SHIT OUTTA RICK ROSS OMG!!!!

— Meek Mill (@MeekMill) 18 November 2009