The Ultimate New Year's Eve 2017/2018 Playlist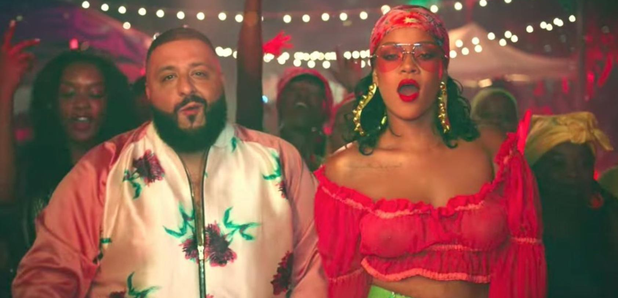 Bring in 2018 with the ultimate New Year's Eve playlist guaranteed to keep everyone on the dancefloor – featuring Drake, DJ Khaled, Kendrick Lamar, Calvin Harris and more...
The countdown to New Years Eve 2018 is on!
Whether you're celebrating another amazing year, or ready to leave 2017 in the past, we've got you covered with a huge selection of the year's biggest songs from the likes of Drake, Kendrick Lamar and DJ Khaled.
So what are you waiting for? Press play and get the party started!
1. DJ Khaled Feat. Rihanna & Bryson Tiller - 'Wild Thoughts'
Sampling Carlos Santana's 1999 hit 'Maria Maria', DJ Khaled's anthem 'Wild Thoughts' slowly evolved into one of the biggest hits of the year and is a must to help you see out 2017 in style.
2. Post Malone Feat. 21 Savage - 'rockstar'
Post Malone's record-breaking hit 'rockstar' killed the clubs, the charts and is perfect for any NYE party!
3. Chris Brown - 'Questions'
Taken from his impressive 45-track album 'Heartbreak On A Full Moon', Chris Brown sampled Kevin Lyttle's 2006 song 'Turn Me On' for a hit that will definitely get you on the dancefloor.
4. J Hus - 'Did You See'
J Hus announced himself to the mainstream in 2017 with his infectious Afrobashment track 'Did You See'. What a banger!
5. Migos Feat. Lil Uzi Vert - 'Bad & Boujee'
Migos kicked off the year riding the wave of their global smash 'Bad & Boujee' and never slowed down. A great song to rap to at a closing party.
6. Travis Scott - 'Butterfly Effect'
Despite his baby drama with Kylie Jenner, Travis Scott had the biggest year of his career so far and topped it off with his Hip-Hop banger 'Butterfly Effect'. Turn this up very loud!
7. Not3s - 'Addison Lee'
Not3s had everyone dancing throughout 2017 with his ode to Addison Lee. New Year's Eve dance off, anyone?
8. Stormzy - 'Big For Your Boots'
After years of hard-work on the underground, Stormzy dropped arguably the biggest song of his career so far. So much energy!
9. Drake Feat. Giggs - 'KMT'
Drake has shown no secret of his love for the UK and collaborated with one of the UK's finest on a song that is guaranteed to cause moshpits at any NYE party.
10. The Weeknd Feat. Daft Punk - 'I Feel It Coming'
The Weeknd has spent much of the year touring his impressive album 'Starboy', which included his silky throwback R&B song 'I Feel It Coming'. Enter 2018 in style!
11. Kendrick Lamar - 'HUMBLE'
Kendrick Lamar's 'HUMBLE' surprised fans when it was first released but turned into one of the biggest Hip-Hop songs of 2017!
12. Calvin Harris Feat. Pharrell, Katy Perry & Big Sean - 'Feels'
Calvin Harris' feel-good collaboration with Pharrell, Katy Perry and Big Sean, is the perfect way to soundtrack your way into 2018.
13. DJ Khaled Feat. Chance The Rapper, Justin Bieber, Quavo & Lil Wayne - 'I'm The One'
DJ Khaled followed up his incredible 2016 with an even bigger 2017. The music mogul delivered one of the biggest songs of the year alongside some of the finest artists in the industry. What a way to end the year!
14. Lil Uzi Vert - 'XO Tour Llif3'
It was impossible to escape Lil Uzi Vert's breakout single this year, which makes it a necessity at your New Year's Eve party.
15. J Balvin & Willy William Feat. Beyonce - 'Mi Gente' (Remix)
J Balvin and Willy William already had a hit on their hands before Beyonce even added her vocals! Welcome 2018 with 'Mi Gente'.
16. Future - 'Mask Off'
Taken from one of his two chart-topping albums this year, Future's 'Mask Off' soundtracked holidays, parties and music festivals. We dare you not to dance!
17. Cardi B - 'Bodak Yellow'
Cardi B's rapid rise to fame was one of 2017's greatest success stories. Her infectious Hip-Hop anthem might be perfect to play when the clock strikes 12.
18. Big Shaq - 'Mans Not Hot'
Comedian Michael Dapaah's parody song 'Mans Not Hot' deserves to be played at every New Years Eve party around the world. The ting goes skrrrahh!