The Ultimate Clubber's Guide Hideout Festival Playlist
23 June 2017, 17:05 | Updated: 29 June 2017, 12:11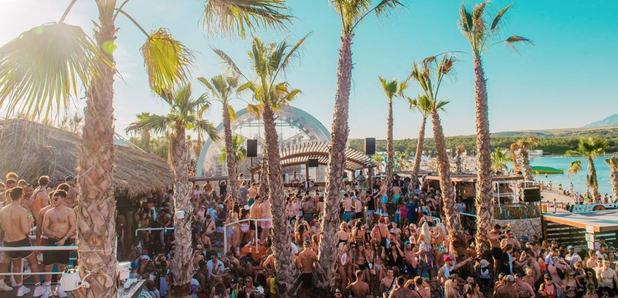 All the biggest urban & dance songs to soundtrack Hideout Festival, presented by Vodafone.
Hideout Festival has finally arrived, so here are the biggest urban and dance songs that will be soundtracking your time in Croatia this summer.
Featuring the biggest tracks from festival headliners Major Lazer and Stormzy, as well as new music from the likes of Dusky and Bicep – this is your ultimate musical guide to Hideout presented by Vodafone.
Listen below:


Major Lazer Feat. Travis Scott, Camila Cabello & Quavo - 'Know No Better'
Hideout Festival headliners Major Lazer have linked up with Travis Scott, Camila Cabello and Quavo, for one of the biggest songs of summer '17.
Diplo & Sleepy Tom - 'Be Right There'
Diplo and Sleepy Tom reworked Jade's 1992 classic 'Don't Walk Away' into a huge hit you'll definitely hear at this year's Hideout Festival.
MK - 'Burning' (Vibe Mix)
Despite being more than 20 years old, MK's house classic 'Burning' is still sounding as fresh as ever.
Hannah Wants & Chris Lorenzo - 'Rhymes'
Hannah Wants and Chris Lorenzo turned Daft Punk's infectious track 'Technologic' into a summer banger!
Camelphat & Elderbrook - 'Cola'
The infectious bassline of Camelphat's collaboration with Elderbrook will get you in the mood for Hideout Festival.
Eats Everything Feat. Tiga Vs Audion - 'Dancing Again'
Created from a combination of Ron Costa's 'Gez Uri' and Breach's 'Jack', Eats Everything put together a huge track that still sends fans crazy at festivals around the world.
Dusky - 'Cold Heart'
Taken from his brand new 'Cold Heart' EP, Dusky has delivered the ideal soulful backdrop to your summer.
Bicep - 'Aura'
Ahead of their debut self-titled album, Bicep gave fans a taste of what to expect with their melodic trance song 'Aura'.
Disciples - 'My Mind'
London-based production team Disciples dropped one of the biggest dance songs of the year with 'On My Mind'. Expect to hear this in heavy rotation at Hideout Festival.
Denney - 'Low Frequency'
Denney's bass-heavy anthem 'Low Frequency' will definitely get people on the dance floor at any music festival this summer.
Stormzy - 'Know Me From'
Stormzy is currently having the biggest year of his career so far and his breakout underground single 'Know Me From' is still sounding fresh.
Icarus - 'King Kong'
Talented production duo Icarus have released an infectious groovy house anthem just in time for festival season. Feel-good music at it's finest.
Illyus & Barrientos - 'Strings'
Hailing from Glasgow, EDM duo Illyus and Barrientos have brought their unique flavour of house music to the scene.
GotSome Feat. Lisa Kekaula - 'I Don't Know'
Bristol-based DJ and producer GotSome linked up with singer Lisa Kekaula for a punchy house track, with soulful vocals.
Waze & Odyssey - 'Down With Tha'
Sounding perfect for clubs and festivals, Waze and Odyssey's huge house anthem will be a big track at this year's Hideout Festival.