This Is Why Following Steve Aoki On Vine Will Be The Best Thing You Ever Did
14 March 2014, 09:44 | Updated: 11 May 2017, 15:53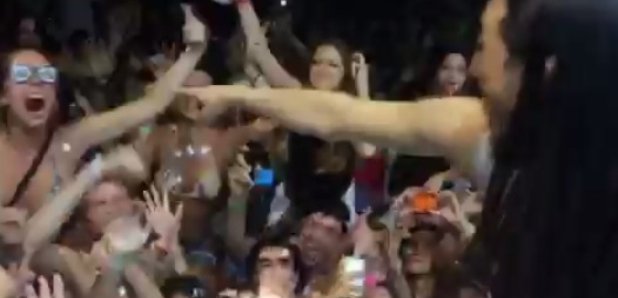 Aside from his massive tracks, Steve Aoki is largely known for throwing cakes at fans, crowd surfing on inflatable boats and his amazing Vines. Here are some of his best.
Tiesto might be the King of Instagram videos, but Steve Aoki is undoubtably the God of Vine. The 'Boneless' DJ uses the social network to showcase his incredibly crazy life, from his signature party trick of throwing cakes at audience members to the 8-second snippets that give some insight into what life is like behind the scenes, Steve Aoki is the man to follow on Vine, here's some examples as to why.
Lock into his interview with DJ Fresh during The Future Of Dance from 9pm tonight (14th March) on Capital XTRA.
1) You'll get to see snippets of Aoki performing some of his favourite songs.
2) You'll get to see snippets of him drinking his favourite drink, and really, really enjoying it.
3) But, by far, some of Steve Aoki's best Vines are these kind of Vines.
4) Yes, he really did just throw a cake in that girls face.
5) And the man has no mercy for distances or body strength, he'll just throw that cake right in your face - point blank.
6) Steve Aoki's Vine also showcases some of his lesser known talents.
7) It gives insight into coping with his hectic travel schedule.
8) And allows him to showcase his acting skills.
9) It's not all fun and games. There are some educational Vines worth paying attention to.
10) OK, we didn't say they're all educational, or even interesting.
11) You'll also find some cameos from Steve Aiko's spooning partner.
12) This is getting a bit weird.
13) Sometimes, even Steve Aoki must call it a night.