Nando's Has A Secret Menu & Here's All The Things You Can Order From It
28 February 2018, 12:50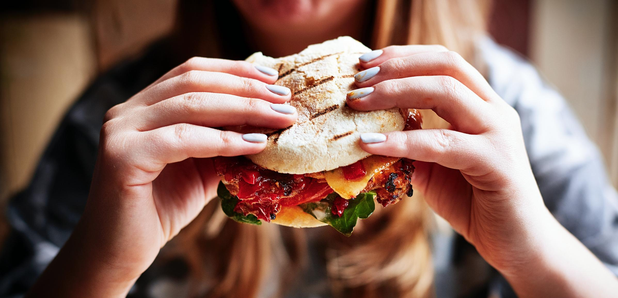 We've compiled the ultimate list of money-saving, taste-enhancing tricks for all you Nando's lovers out there.
If you're looking for cheaper, tastier ways to satisfy your PERi-PERi cravings, look no further.
Wherever your preferences lie on the spice scale, these tried and tested tricks are seriously going to level up your Nando's game.
Just ask Stormzy - the 'Big For You Boots' star has got his own secret hack that will change your life.
Check it out!
1. Make a Nando's Burrito
Fancy a burrito from Nando's but can't find it on the menu? Simply order a wrap from the normal menu, preferably the
Prego Steak with Chilli Jam, and order spicy rice on the side. W

hen your food arrives, get creative by opening up your wrap, tipping in the rice and bundling it up again.
2. Make your own PERinaise
Save money by mixing the free mayonnaise with your favourite PERi-PERi sauce.
3.
Replace your bun with garlic bread
Honestly, this is life-changing. Try things veggie style à la JME by choosing a veg burger with avocado, mango & lime sauce, pineapple, lettuce and tomato.
4. Prefer things cool? Order the Peri-Tamer
The Peri-Tamer is a sweet, mild BBQ sauce that they use on the kids menu. Order straight from there or get it as a marinate for your adult meal.
5. More of a spice lover? Order the Peri-Flamer
Turn things up a notch by asking for the spicier older sibling of the Peri-Tamer. It's a staff secret, but they'll know what you mean.
6. Make your own #Merky Burger
Stormzy's brainchild comprises of grilled halloumi cheese sandwiched between a garlic bread roll. Absolute winner.
7. Order large chips rather than two regulars
It's cheaper, and you get the same amount of chips (if not more!)
8. Put sauce on your sides
Trust us - the Mango & Lime sauce on the corn on the cob side is heavenly.
9. Nando's does breakfast!
But only at Gatwick Airport. Soz.
10. Make your own 'Fantoke'
We're concluding our list with a classic. Fill your bottomless drink halfway with Fanta, then top it up with Coke. England Midfielder Dele Ali has got this one DOWN.