The Ultimate Red Bull Culture Clash 2016 Playlist
6 June 2016, 16:32 | Updated: 11 May 2017, 15:53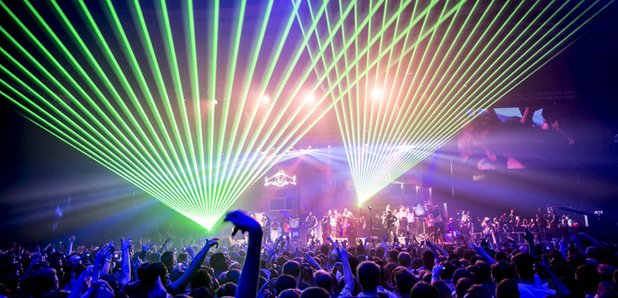 A huge selection of the biggest songs from genres featuring at this year's Red Bull Culture Clash. Featuring Wiley, Wiz Khalifa, Popcaan and more.
Red Bull Culture Clash is back for 2016 with one of its biggest line-ups yet, featuring some the biggest names in Grime, UKG, Reggae and Hip Hop.
Eskimo Dance, Mixpak, Wiz Khalifa's Taylor Gang and UKG All Stars will battle it out at London's O2 Arena for the prestigious Culture Clash crown.
We've put together the biggest collection of tracks from this year's acts including Wiley, Craig David, Wiz Khalifa, Popcaan and more.
Press play on the biggest hits below:
Skepta - 'Shutdown'
One of the songs that kicked off Grime's epic resurgence, Skepta's 'Shutdown' captures the genre at its best.

Wiz Khalifa - 'Black & Yellow'
Wiz Khalifa shut down the world when he dropped his huge Hip Hop single 'Black & Yellow' back in 2011.

Craig David Feat. Artful Dodger - 'Rewind'
Craig David linked up with Artful Dodger for the ultimate UKG classic!

Tony Matterhorn - 'Dutty Wine'
Tony Matterhorn's 2006 hit 'Duttywine' remains of Dancehall's biggest anthems.

Stormzy - 'Shut Up'
Stormzy's now-classic freestyle in the park catapulted the Grime MC to fame and even challenged for Xmas No.1 last year.


Ty Dolla Sign Feat. B.O.B - 'Paranoid'
Taylor Gang's Ty Dolla Sign linked up with B.O.B for a catchy club anthem.

DJ Luck & MC Neat - 'Little Bit Of Luck'
DJ Luck and MC Neat's UKG anthem 'Little Bit Of Luck' came out way back in 2002 but still sounds fresh!

Popcaan - 'Everything Nice'
Drake collaborator Popcaan captured the world's attention with his Reggae slow jam.

Kano - 'Ps & Qs'
A fresh-faced Kano burst onto the scene with his hit single 'Ps & Qs' and never looked back!

Juicy J Feat. Lil Wayne & 2 Chainz - 'Bands Make Her Dance'
Juicy J took everyone to the strip-club with his huge trap hit alongside Lil Wayne and 2 Chainz.

DJ EZ - 'Do You Really Like It'
Old school UKG at its finest!

Spice - 'So Mi Like It'
Repping for the ladies, Spice's Dancehall anthem will get you dancing.

Wiley - 'Wot U Call It'
Eskimo Dance boss Wiley led the way for Grime with his classic UK anthem.

Wiz Khalifa Feat. Chevy Woods - 'Taylor Gang'
Wiz Khalifa and Chevy Woods put together the ultimate soundtrack for their crew. Turn it up!

Wideboys Feat. Dennis G - 'Sambuca'
Wideboys released a fast-paced floorfiller that will never sound dated.

Kranium Feat. Ty Dolla Sign - 'Nobody Has To Know'
Mixpak's Kranium linked up with Taylor Gang's Ty Dolla Sign for the ultimate Dancehall slow jam.