17 Artists You Could See At Drake's OVO Fest London
25 May 2017, 11:37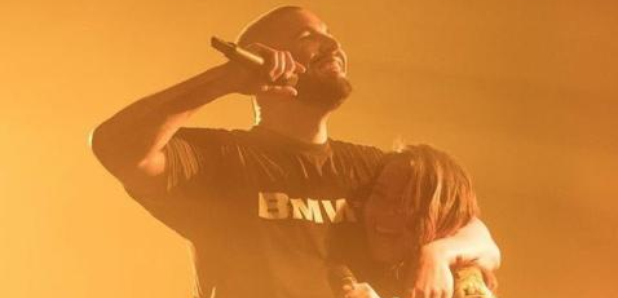 This would be massive!
Drake has dropped some huge hints that he will bring his popular OVO Fest to London this summer and fans can't wait.
The 'One Dance' rapper made the big announcement on several dates of his 'The Boy Meets World Tour' and even suggested that there could be a Young Money reunion in the works.
Ever since, fans have been speculating about who'll be performing, where it'll happen and more.
So we've compiled a list of all the artists that could possibly hit the stage at the inaugural OVO Fest London.
Skepta
Drake and Skepta have been good friends for a few years now, with the pair collaborating on music and getting tattoos of each other's labels, OVO and BBK.
Skepta previously came out as a surprise guest at Toronto's OVO Fest in 2015, so could he do the same in his hometown?

Nicki Minaj
Nicki Minaj and Drake have a long history of collaborations including 'Make Me Proud' and 'Moment For Life'.
And with the pair recently reconciling after Drizzy's beef with Meek Mill, OVO Fest London could be the perfect opportunity to premiere some new music together.

Lil Wayne
If Drake is really planning to make his Young Money reunion a reality, he needs to invite his boss Lil Wayne. This would be epic!

J. Cole
J. Cole shocked fans when he dropped his surprise album '4 Your Eyez Only' towards the end of 2016 and is yet to perform any of the songs.
Could he bring a potential J. Cole tour to Drake's OVO Fest in London?

The Weeknd
Despite rumours of a feud between the pair, Drake and The Weeknd finally reunited in the music video for the singer's new track 'Remainder'.
An OVOXO reunion on stage in London would be the perfect way to start summer '17.

Stormzy
Following a self-imposed social media ban, Stormzy announced his return with an energetic new single called 'Big For Your Boots'.
With his highly-anticipated debut album 'Gang Signs And Prayer' a few days from release, OVO Fest London would be the perfect opportunity to perform his new bangers.

Jennifer Lopez
If Drake and Jennifer Lopez's dwindling romance lasts until the summer, OVO Fest London would be a great chance to perform their highly anticipated Funky House collaboration.

Giggs
Drake surprised fans when he premiered his new Giggs collaboration during his 'The Boy Meets World Tour'.
The transatlantic single will appear on Drizzy's upcoming project 'More Life'. So surely the best place to perform the song would be London?

Stefflon Don
Rising rapper Stefflon Don has been gaining huge support from the UK underground with her single 'Real Ting'.
After following up with a number of impressive features, we wouldn't be surprised to see Stefflon Don owning the stage at OVO Fest London.

Kanye West
Kanye West and Drake reportedly have a collection of unreleased songs together after working on a collaborative project.
However after Drake recently revealed he was offended by one of Kanye's stage rants, an OVO Fest appearance may be unlikely.
Could the pair patch up their relationship before the summer?

Dave
After Drake remixed Dave's underground single 'Wanna Know' and invited him on stage to perform it at London's O2 Arena, it would be a shame if he wasn't involved at OVO Fest, right?

Rihanna
Although they're no longer in a relationship, Drake and Rihanna have an amazing catalogue of music together.
Despite their on-off relationship, fans will be hoping they bring their unmistakable chemistry to OVO Fest London this year.

Section Boyz
Drake fans will already know that he's a huge fan of Section Boyz, after making a surprise appearance at their headline show in East London in 2016.
So if OVO Fest London was to happen, expect Section to be one of the first names on the line-up.

Popcaan
After Popcaan co-starred alongside Drake in his recent short film 'Please Forgive Me', it would make perfect sense for the pair to continue their 'OVO Unruly' movement at OVO Fest.
And armed with their huge Dancehall-influenced collaboration 'Controlla', it would be a shame for them not to perform it live.
Wiz Kid
Wiz Kid famously featured on Drake's smash hit 'One Dance' and also has another Drizzy collaboration up his sleeve called 'Hush Up The Silence'.
If the pair link up on stage in London fans will go wild!

Young Thug
Young Thug supported the UK legs of Drake's 'The Boy Meets World Tour' and recently described the Canadian as one of the "realist" rappers in the industry.
We wouldn't be surprised to see the Thugger gracing the stage at this year's OVO Fest London.

Travis Scott
Travis Scott's surprise entrance during Drake's 'The Boy Meets World Tour' earned fans a free show! The US rapper hilariously fell through the stage and broke the globe set-up. Could fans be in for a repeat performance at OVO Fest London.