The Ultimate New Year's Eve 2014 Playlist
30 December 2014, 09:00 | Updated: 11 May 2017, 15:53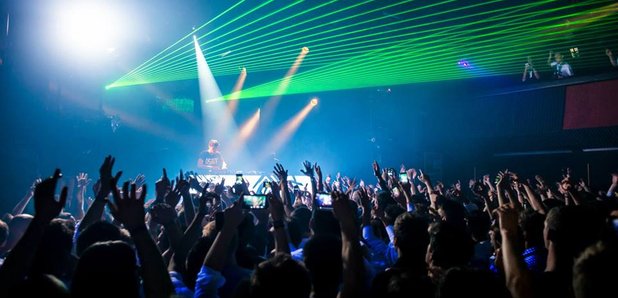 Bring in 2015 right with a New Year's Eve playlist to keep everyone on the dance floor. Featuring tracks from Alesso, MK, Disclosure, Duke Dumont and more - this is the soundtrack to your night.
The countdown to New Years Eve 2014 is on and if you're wondering what music you should be listening to as you welcome in 2015 at your New Years party, we've got you covered with a selection of the biggest songs from the likes of Sam Smith, Redlight and Alesso.
So get locked in and have an amazing New Year.
1. Sam Smith - 'Money On My Mind' (MK remix)
Everything MK touched turned to gold in 2014 and 2015 looks set to follow a similar path for super producer Marc Kinchen. His re-working of Sam Smith's 'Money On My Mind' injects a devilish bassline into the BRIT Award-winning star's debut single.
2. Alesso vs One Republic - 'If I Lose Myself'
'If I Lose Myself' nailed everything that it needed to with euphoric synthlines, a building baseline, a peak and of course some powerful Tedder vocals, making it the perfect track to hit play on just before the clock strikes 12.
3. Zedd Feat. Foxes - 'Clarity'
It's been a massive year for both Foxes and Zedd so they have to be included at its closing party.
4. Watermat - 'Bullit'
French producer Watermät made his debut in 2014 and what a debut it was. Watermät's very first single charted in Australia, Belgium, France and in the UK, at number six. Expect big things in 2015.
5. Gorgon City Feat. Zak Abel - 'Unmissable'
Gorgon City have proven to be one of the UK's most promising new music acts, having been responsible for more than a few of the biggest hits that got us all through the summer. "Let's make it unmissable" are good words to bring in 2015 with.
6. Blonde - 'Loved You'
7. Clean Bandit Feat. Jess Glynne - 'Rather Be'
After a few years of moderate success, Clean Bandit broke through in 2014 with their single 'Rather Be' taking the title of the fastest selling single of the year (this has been overtaken only in the last few weeks, by Band Aid 30). The track stayed at number one for four weeks and is still the catchiest thing to live this year.
8. Redlight - '9TS'
90s babies, pour yourself a drink and enjoy a dance to Redlight's infectious jam '9TS.'
9. Got Some Feat. Get Along Gang - 'Bassline'
"This is my bassline. My bassline. Bass My basline."
10. Wanklemut - 'My Head Is A Jungle (MK Remix)'
The song blew up this year, but not as much as MK's stellar remix of it, which actually has more YouTube views that the original. Could this be the remix of the year?
11. Sander Van Doorn, Martin Garrix & DVBBS - 'Gold Skies'
There's a powerful force behind this one - Martin Garrix, DVBBS and Sander Van Doorn - so no wonder it's been a BIG hit in 2014. Perfect for the big room or just for fist pumping with your mates back at home.
12. Alesso feat Tove Lo - 'Heroes (We Could Be)'
Tove Lo was a popular girl this year... Sweet, sweet vocals and even sweeter beats captured perfectly here in Alesso's 'Heroes'.
13. Nero - 'Satisfy'
Trained in the art of keeping their fans waiting for a release, Nero pleased the masses when 'Satisfy' dropped earlier this year.
14. Showtek & Justin Prime - 'Cannonball (Earthquake)'
Matthew Koma joins Showtek and Justin Prime to recreate the original mix of their track 'Cannonball', giving us an even bigger track with plenty of big room peaks.
15. The Chainsmokers vs Tove Lo - 'Habits'
Tove Lo's second (and breakthrough) single 'Habits' gets a well deserved remix here by The Chainsmokers to give it a glorious EDM edge. Nice!
16. Secondcity - 'I Wanna Feel (Brookes Brothers Remix)'
Second City serve up a late night, hands in the air anthem in the shape of 'I Wanna Feel' and it's the Brookes Brothers remix that catapulted this track into just about every essential summer party in 2014.
17. Disclosure x Pharrell Williams - 'Frontin''
Thanks to Disclosure, you can bring some old-school vibes to your party while keeping things feeling fresh. Their remix of the Pharrell favourite 'Frontin' was a welcomed surprise earlier this year.
18. Route 94 ft Jess Glynne - 'My Love' (Patrick Hagenaar remix)
Jess Glynne was one to watch in 2014 and it's her 90s infused vocals that really propel the Patrick Hagenaar remix of 'My Love' by Route 94. Get your hands in the air for this one.
19. Sigma X Paloma Faith - 'Changing'
What a collaboration! Paloma's unique vocals are the perfect fit to this classic hands in the air DnB track.
20. Duke Dumont - 'I Got U (High Contrast Remix)'
Taking one of the summer's biggest hits and adding some drum and bass euphoria gives you this absolute tune fit for a big New Year's Eve.