The Ultimate Hip Hop Christmas Songs Playlist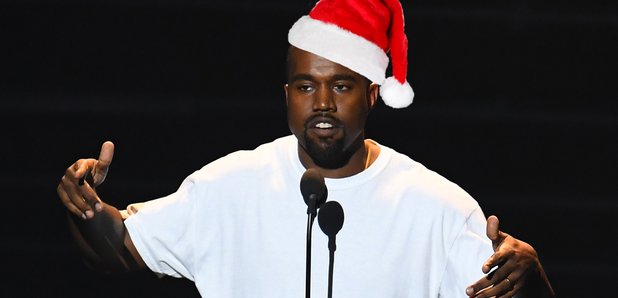 It's time to get in the festive spirit!
Christmas is just around the corner, but it doesn't have to be the cheesy classics and same old Christmas carols that you hit play on to get you in the spirit. We've rounded up the best Christmas songs that hip-hop has to offer, featuring tunes from Snoop Dogg, Kanye West and some old school classics that could be new to your ears.
(Warning: many of these songs contain language that some people may find offensive.)
Kanye West featuring Big Sean, Pusha T, et al - 'Christmas In Harlem'
Released three years ago this Christmas, Kanye gathered a bunch of artists, including Big Sean, Pusha T, Cyhi The Prynce and Teyana Taylor for a Christmas special. The song contains samples from Marvin Gayes' 'Aint Nothind Like The Real Thing' and 'Mercy Mercy Me'.
Run-D.M.C.- 'Christmas In Hollis'
It might be old-school but it's a Christmas rap classic, released back in 1987 Run and D.M.C. get in the festive spirit by rapping about Christmas in their Hollis, Queens, New York, neighbourhood. Our best bit? When Run raps about finding Santa's wallet with $1 million in it. Relive it below.
Juelz Santana and Starr - 'Jingle Bellz'
Juelz Santana and Starr take over the hit that is 'Jingle Bells,' renaming it 'Jingle Bellz' - which makes all the difference. The RnB version features some soulful vocals and stylish presents, who wouldn't want to wake up on Christmas morning to find a white Bentley with a big red ribbon on it?
Ludacris - 'Ludacrismas'
A prime example of when Christmas lyrics turn rap - Ludacris announces "I tell 'em all I want for Christmas is two gold front teeth" on this soundtrack for 2007 film 'Fred Claus'.
Snoop Dogg - 'Santa Claus Goes Straight To The Ghetto'
Santa can't spend all year long in a grotto, so when he met up with Snoop to discuss presents the 'ghetto' was their place of choice. The single featured on Suge Knight's 1996 album 'Christmas On Death Row'.
The Treacherous 3 - 'Christmas Rap'
You might not be old enough to remember the 1984 cult classic "Beat Street" but everyone should have The Treacherour Three's hilarious Christmas rap in their lives over this period. Take a listen.
Jim Jones - 'Bad Santa Intro'
In 2008 Jim Jones and Skull Gand presented a tribute to 'Bad Santa'. If you ever wondered about the rising price of snow and what the lyric 'chestnuts roasting on an open fire' sounds like when rapped, this is the Christmas carol for you.
Sweet Tee - 'Let The Jingle Bells Rock'
Sweet Tee's tells us how it's done in the 1987 Christmas rap 'Let The Jingle Bells Rock' as she raps; "
Now you know Christmas is hip-hop
Don't stop, let the jingle bells rock."
The Ying Yang Twins - 'Deck Da Club'
The Ying Yang Twins Kaine and brother D-Roc take a Christmas classic 'Deck The Halls' and turn it into a hip-hop anthem 'Deck Da Club'. It's a clever twist on an old favourite, but maybe don't put it on when you sit down with your grandma for Christmas.
Kurtis Blow - 'Christmas Rappin'
The oldest Christmas rap we've managed to find, in 1979 a 20-year-old Kurtis Blow released 'Christmas Rappin' as the first rapper signed to major record label Mercury. The track sold over 400,000 copies, paving the way for the other tracks on our playlist.
Spyder D - 'Ghetto Santa'
Old school rapper and producer Spyder D provided some of our favourite rapper Christmas lyrics to date when he rapped; "So if you hear footsteps upon your roof, d
on't fright it, that's Santa with your new gold tooth". Have a listen and enjoy it for yourself.