Here's How Much It Costs To Have Drake Or Rihanna Play At Your Party...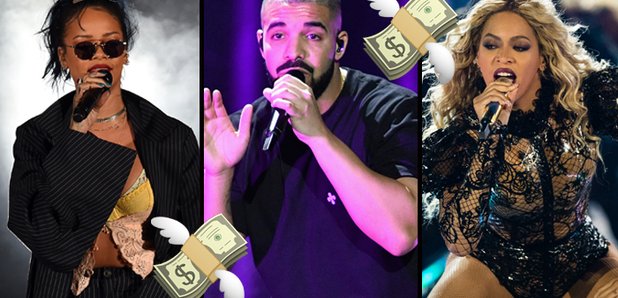 Spoiler: it's a lot.
Ever wondered how much dollar you would need to book your favourite artist?
Well, we've done all of the research for you.
Take a look below to find out how much it would cost to have the likes of Drizzy and Yeezy perform at YOUR next bash.
Better start saving!
Tekashi 6ix9ine - $100,000
Bruno Mars - $500,000 - $1m
Eminem - $500,000 - $1m
Chris Brown - $300,000+
Cardi B -
$300,000 - $500,000
Beyonce - $2m+
Drake - $500,000 - $1m
Rihanna - $1m+
Kanye West - $500,000+
Lil Wayne - $400,000
A$AP Rocky - $300,000
Fetty Wap - $60,000
Martin Garrix - $150,000
Kendrick Lamar -

$500,000 - $1m
Nicki Minaj - $500,000
J. Cole - $200,000
The Weeknd - $750,000 - $1m
Jay Z - $1m+
Pharrell Williams -

$500,000 - $1m
(sources: celebritytalent.net, bookingentertainment.com and main-stageproductions.com.)