Your Ultimate Gym Playlist: The Best Hip Hop And Dance Workout Songs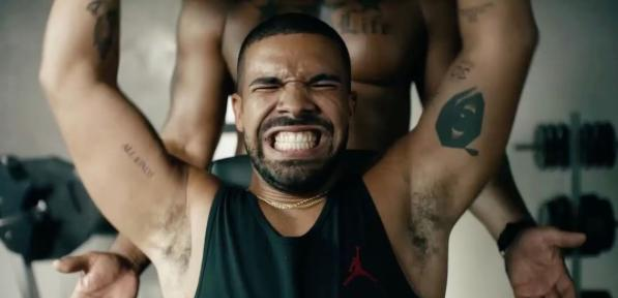 For all the gym-spiration you need, check out the ultimate workout playlist featuring Drake, Tinie Tempah, Meek Mill, Kanye West and more.
Do you want bigger muscles? Do you want to out run all your friends?
Well, we can't promise you any of that, but we can give you a playlists of perfect gym songs that will help motivate you when you during your next workout session. Seriously, you'll be winning at life if you get involved with these.

Kanye West - 'Fade'
Sometimes getting through the first five minutes of a workout is the hardest part, so we recommend Kanye's 'Fade' for some ultimate gym-spiration.

Meek Mill Feat. Rick Ross - 'I'm A Boss'
Meek Mill linked up with his label boss Rick Ross for one of the most motivational Hip Hop anthems ever! This is guaranteed to get you going.

Drake - 'Energy'
Drake's aggressive mixtape song 'Energy' is the perfect soundtrack while you're burning off calories!

Skepta - 'Shutdown'
Skepta's Grime hit 'Shutdown' will give you all the energy you need while putting in work in the gym!

Beyonce - 'Formation'
Beyonce provided a huge gym-ready track, taken from her powerful 2016 album 'Lemonade'.
Eminem - 'Lose Yourself'
It's easy to tire of your usual gym-picks but some songs will always remain firmly on the playlist. One of those is Eminem's classic 'Lose Yourself.' If that doesn't inspire you to up the speed on the running machine, what will?

Rebound X - 'Rhythm N Gash'
This upbeat Grime classic is sure to keep you going during your workout!
Kid Cudi Feat. Pharrell Williams - 'Surfin'
Step your workout up a notch with Cudi's punchy track 'Surfin'. Your motivation levels will be skyrocketed as the lyrics are about being focused, strong and independent. You got this!

Sia feat. Kendrick Lamar - 'The Greatest'

Sia and Kendrick and teamed up for this uplifting, motivational track that is sure to bring out the fighter in all of us. Perfect for running that last mile, doing that last crunch or cycling that final lap.
JME Feat. Giggs - 'Man Don't Care'
Two of the UK's finest teamed up for an underground anthem that will give you that much-needed energy in your work-out.
Lee Walker Vs DJ Deeon Feat. Katy B - 'Freak Like Me'
Katy B, Lee Walker and DJ Deeon are the ultimate dream team when it comes to pumped up gym tracks. This banger is sure to get you going through that crucial first half of your workout.


DJ Khaled Feat. Ludacris, Snoop Dogg, Rick Ross, T-Pain - 'All I Do Is Win'
Six years old, but every bit as energising as it was when it was first released, the clue's in the name of DJ Khaled's 'All I Do Is Win.'

Abra Cadabra Feat. Krept & Konan - 'Robbery' (Remix)
Upcoming Grime MC Abra Cadabra announced his name on the UK scene with a huge energetic track alongside Krept & Konan. This will give you that added motivation!

Major Lazor - 'Pon De Floor'
Whether it's the Major Lazor version or Beyoncé's 'Run The World,' the beat on this is absolutely epic and everything you need to wipe the sweat off your head and keep on going.


Tinie Tempah Feat. Zara Larsson - 'Girls Like'
Tinie Tempah provided the ultimate upbeat gym track alongside Zara Larsson!

Fat Joe & Remy Ma Feat. Jay Z & French Montana - 'All The Way Up' (Remix)
Fat Joe and Remy Ma's motivational banger will give you that energy to go the extra mile. "Nothing can stop me, I'm all the way up!"

Bob Marley Feat. LVNDSCAPE & Bolier - 'Is This Love'
Lvndscape and Bolier turned a Bob Marley classic into an huge gym anthem.

Calvin Harris Feat. Rihanna - 'This Is What You Came For'
You just can't help but jump around when this come on!

Duke Dumont Feat. Jax Jones - 'I Got U'
Duke Dumont has come on the scene and filled lives with effortlessly cool summertime songs, including 'Need U (100%)' and 'I Got U.' Both don't have the bang you want for the peak of your work out, but are great for warm-ups and warm-downs.

Drake Feat. Lil Wayne & Tyga - 'The Motto'
You know the motto, you've heard it a million times, "you only live once," so keep going!

Azealia Banks - '212'
We have a feeling Azealia Banks '212' wont be going anywhere for a very long time, it's still playing in the clubs and it's still get everyone pumped as soon as it comes on in the gym.

Kanye West Feat. Rihanna and Kid Cudi - 'All Of The Lights'
Kanye and RiRi team up to deliver you a brilliant warm-up track to ease you into you exercise.

Game Feat. 50 Cent - 'Hate It Or Love It'
Back in the days when 50 and Game were making tracks together, they came up with this winner. If you're feeling like the underdog in your local gym, hit play.

AlunaGeorge Feat. Leikeli47 & Dreezy – 'Mean What I Mean'
If you're working out from home, get Aluna George's 'Mean What I Mean' up on your laptop. The track is the perfect soundtrack your personal fitness class!

Disclosure - 'When A Fire Starts To Burn'
Possibly the best beat on Disclosure's entire album, 'When A Fire Starts To Burn' will get you moving in no time.

Breach - 'Jack'
"I want your body, everybody wants your body..."