20 Of The Best Future Songs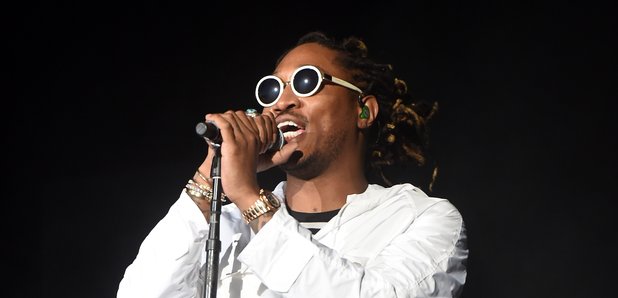 We bring you the definitive list of Future's best songs. Over past few years, the 'Mask Off' star has evolved from guest-verse rapper to fully fledged Hip-Hop icon in his own right. Take it away, Hendrix.
Atlanta has produced some of the biggest names in Hip-Hop, and Future has stood out as the biggest in recent years.
Early work with the legendary Dungeon Family and Gucci Mane made his name and his anticipated first album 'Pluto' was well received. From a solid start he worked on his sound - a woozy, smooth flow often auto-tuned to give a trippy vibe - went on to release three mixtapes in 2014 and 2015 - Monster, 56 Nights and Beast Mode - that cemented his place as a modern rap great.
But while a lot of rappers thrive on mixtapes but falter with more commercial releases, Future has crossed over. His work his Drake has taken him to a larger audience and his two albums, 'Future' and 'Hendrxx', saw him release singles that did better than ever for him on the charts.
Press play to listen to 20 of Future's best songs.
Turn On The Lights
His first big offical hit, this MikeWillMadeIt produced hit off the 'Pluto' album was his first single to go platinum.
Stick Talk
Future reps his native Atlanta in this track off his best received album, DS2. He warns about the guns and robberies his neighbourhood is known for.
Jumpman
From the 2015 Drake and Future mixtape 'What A Time To Be Alive', the imitation of Young Thug doesn't quite come off, but it's still an iconic song from two rappers who were at the top of their games at the time.
March Madness
One of his biggest songs, this woozy banger from the '56 Nights' mixtape sees Future at his energetic, relentless best. This song won a lot of doubters over.
Codeine Crazy
Future sad ode to the drink that's been synonymous with southern rap: codeine and Sprite, aka lean. ASAP Yams referenced this song in his last tweet before he overdosed on Xanax and lean. Far from a party song and one that shows the deeper side to Future's music.
Low Life Feat. The Weeknd
The low flow of Future and The Weeknd combine perfectly in another Metro Boomin banger off his fourth studio album 'EVOL'.
56 Nights
The title track off one of his best mixtapes from unbelievable run (this, 'Monster' and 'Beast Mode') introduces a more melodic Future.
Kno The Meaning
Future at his most confessional (literally in the video, he raps from a confession booth). This song addreses his break up with Ciara, with whom he has a child, and the arrest of his friend DJ Esco at the end of Future's tour.
Used To This Feat. Drake
Future hooked up with Drake again for this track prodcued by Zaytoven, which was originally meant to be on the 'Beast Mode 2' tape but appeared on the 'Future' album this year.
F**k Up Some Commas
A classic Future track that's so good he dropped it twice (on the 'Monster' mixtape then the 'DS2' album).
Honest
This track off Future's second album of the same name marked a big evolution in his style, with the sing-songey hook.
Blow A Bag
Another Metro Boomin produced track off 'DS2', Future shows his flashy side, boasting about spending that p.
Move That Dope
One of the most unconventional beats Future's rapped over (prodcued by Mike Will Made It) he shows his skill by controlling it perfectly and holding his own against veterans Pusha T and Pharrell.
Coupe
One of his slept on songs, released with Adult Swim (with an animated video) the high pitch synth and Future's flow shows how he can push things.
I Won Feat. Kanye West
Loved up Future raps about his fiancé Ciara (uh, that didn't work out) on this track, with Kanye referring to his beau Kim Kardashian (that's worked out better).
Trap N****s
Another big song produced by 808 Mafia off the '56 Nights' mixtape (56 nights was how long DJ Esco spent in prison in Dubai).
Blood On The Money
Talking about the dark side of his life, Future shows his versatility as an artist over the floaty synths (and of course rumbling bass).
Where Ya At Feat. Drake
This marked Future's first collaboration with Drake, which led to their full mixtape 'What A Time To Be Alive'.
Monster
The title track off the 'Monster' mixtape, which is arguably Future's best mixtape and possibly better than any of his albums. At his peak with 808 Mafia and Metro Boomin on the beat.
Mask Off
One of the biggest hip-hop songs of 2017 sees Future and Metro Boomin making magic again. The hook heavy rapping over an exotic beat is Future's most successful single to date, hitting number five in the Billboard Hot 100.