14 Times Footballers Attempted To Make It As Rappers
19 June 2014, 11:04 | Updated: 11 May 2017, 15:53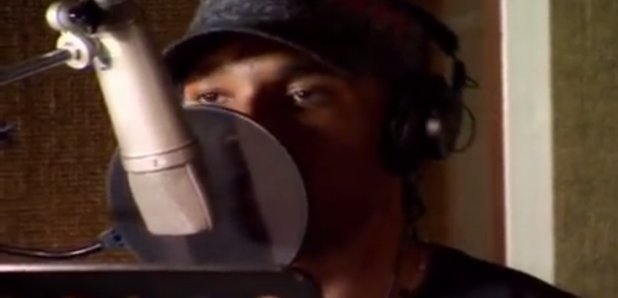 Scoring goals isn't enough for the like of Paul Gascoigne, Didier Drogba and these other footballers, who all, at some point, turned their minds to becoming a rapper.
Sometimes footballers get bored of playing football. When they do, this is usually what happens next.
Clint Dempsey
Former Fulham and Tottenham player, and now United States captain, Clint Dempsey featured in the song 'Don't Tread' with Texas rappers XO and Big Hawk under the alias 'Deuce.' The song featured in a Nike advertising campaign in the 2006 World Cup.
Andy Cole
Above, check out the video for ex-Manchester United forward Andy Cole's single 'Outstanding,' which he hooked up with DJ Pied Piper for in 1999. The single did not do as well as either had hoped.
Didier Drogba
Former Chelsea player Didier Drogma can be seen in a mini-documentary filming a rap song and speaking about the inspiration behind it. Fortunately Drogba's got some skills on the pitch, because he looks a lot more comfortable there than he does in a studio!
Benni McCarthy
In the run up to the 1998 world cup South African footballer Benni McCarthy featured on TKZee's remaking of 'The Final Countdown' titled 'Shibobo.' Unlike most footballers-turned-rappers on the list, McCarthy actually had some success with his go at it as over 100,000 copies of the single were sold in just over a month.
Chris Waddle and Basile Boli
The footballer pair released this song in the mid-nineties whilst they were playing at Marseille - mainly in French, it's hard to understand a word they're saying. But you don't need to understand to get the vibe that it's very strange.
Ryan Babel
Babel's rapping wasn't a one-off but in his own words is his "hobbie." The Dutchman was playing for Liverpool at the time the above rap was recorded, and lets fans know with lyrics like; "I'm the Liverpool star those b****s are loving" as well as dropping some other heavy language.
Rio Ferdinand
In what looks like the least lively karaoke night ever Rio Ferdinand found himself backing up his friend Kano as he performed (for an empty bar) he then-new song 'Rock N Roll.' With a beer bottle in one hand and a mic in the other, Rio gives it everything he's got for his one audience member - the waiter.
The entire 1998 Liverpool FC Squad
The most successful of all the songs featured, Liverpool FC's 'Anfield Rap' made it to number three on the charts in 1998. As their were only two players that were from Liverpool in the team at the time, the song revolves about lyrics like; "Well you two scousers you're always squaking, but we'll just let our feet do the talking."
Morten Gamst Pedersen and John Arne Riise
So they are actually singing, not rapping, in this strange advert for Scandinavian fruit merchants Bama, but it had to be included because it's just hilarious. Pedersen said of the ad: "This is a commercial I, John Arne and Erik did for Bama to promote fruit. It was really fun to make, especially since the store was full of customers who could see us make a fool of ourselves. But it is for a good cause and that's alright."
Asamoah Gyan
Ghanaian professional footballer Asamoah Gyan hooked up with Afrobeats star Castro for his hip-hop debut under the alias 'Baby Jet' during the last world cup in South Africa, 2010.
Youri Djorkaeff
French footballer Youri Djorkaeff won both the the 1998 World Cup and Euro 2000, with football conquered he went on to attempt a hip-hop career, releasing a single called 'Vivre dans Ta Lumière,' which translates to 'Living in Your Light' - unfortunately he didn't find so much success with his second calling.
Paul Gascoigne
The video for former Tottenham player Paul Gascoigne's 'Geordie Boys' has a classic 90's vibe. Obviously put together on a smaller budget than Jay Z's current videos, the athlete gave it a good go.
John Barnes
As of late John Barnes has got back on the stage to perform his famous World Cup Rap from 1900 from the song 'World In Motion.' The Jamaican-born England player was selected to perform the rap after a contest with other players including Chris Waddle and Paul Gascoigne.
Royston Drenthe
Drenthe had a go in the hip-hop world when he hooked up with U-Niq on the track 'Tak Taki,' the Dutchman hasn't recorded anything since. Can we expect a comeback in the world-cup year?