Here's How These 15 Hip-Hop Stars Looked In Their First Ever Music Video
2 November 2018, 16:58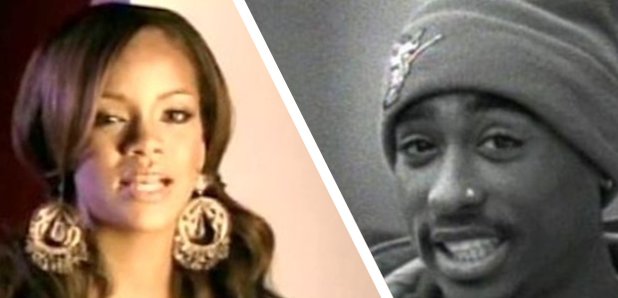 What a throwback!
Drake, Beyonce, Chris Brown and Rihanna are all global Hip-Hop and R&B superstars that rack up millions of views on their latest music videos.
But before the huge fan-bases and sold-out tours they all started out as young ambitious musicians attempting to get noticed.
We've put together a rundown of the first solo music videos of your favourite artists, including Beyonce, Kanye West, Nicki Minaj, Tupac, The Notorious B.I.G. and more.
Check out the list below:
Destiny's Child - 'No, No, No (Pt.1)'
The original members of Destiny's Child made their entrance with a seductive single called 'No, No, No', filmed in a nightclub.
Rihanna - 'Pon De Replay'
Rihanna introduced herself to the world of Hip-Hop and R&B with her infectious Dancehall-themed single 'Pon De Replay'.
Drake - 'Best I Ever Had'
Drake's first ever solo music video was actually directed by Kanye West! However the pair reportedly fell out after Drizzy wasn't happy with the final result.
Beyonce - 'Crazy In Love'
Following her success with Destiny's Child, Beyonce made her music video debut with hit single 'Crazy In Love' featuring her future husband JAY-Z.
Chris Brown - 'Whose Girl Is That'
Unknown to many fans, Chris Brown shot his first ever music video when he was 13 or 14. The singer showed off his signature dance moves in the grainy visuals.
Nicki Minaj - 'Jump Off 2007'
Before the pink wigs and huge persona, Nicki Minaj was an aspiring rapper dropping mixtapes! What a flow...
Kanye West - 'Through The Wire'
Kanye West showed his artistic creativity in his first ever music video, piecing together pictures from his inspiring journey to create a stunning montage.
The Weeknd - 'The Knowing'
The Weeknd clouded himself in mystery and intrigue when he announced himself to the world. Despite not showing his face, the singer teased his identity to fans.
Eminem - 'My Name Is'
Eminem's first ever music video summed up his quirky, controversial character! What a classic!
Jennifer Lopez - 'If You Had My Love'
J. Lo exploded onto the scene in 1999 with her hit single 'If You Had My Love' and showed off her stunning looks in the official music video.
John Legend - 'Used To Love U'
John Legend kicked off his solo career with soulful song 'Used To Love U', which was accompanied by church-inspired visuals.
Tupac Shakur - 'Brenda's Got A Baby'
Tupac showed off his introspective mindset on debut single 'Brenda's Got A Baby' back in 1991. The powerful black-and-white music video tells the emotional story of Brenda.
Missy Elliott - 'The Rain'
Missy Elliott proved that she was a force to be reckoned with when she released her debut single 'The Rain' and accompanying music video.
The Notorious B.I.G. - 'Juicy'
Back in 1994, Christopher Wallace told his life story on one of the biggest songs in Hip-Hop history! The video remains a classic.
JAY-Z - 'In My Lifetime'
Before the business empire, a youthful JAY-Z rhymed about wanting lots of money on his debut single 'In My Lifetime'.