17 R&B Songs You (Probably) Didn't Know Contain Samples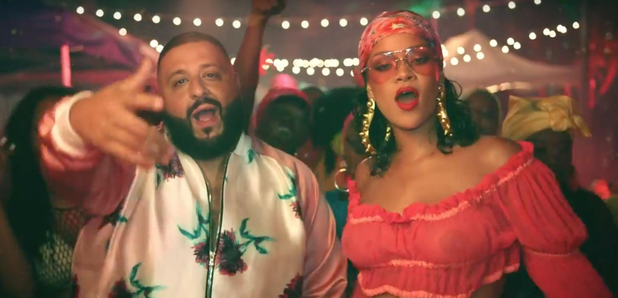 Featuring the likes of Beyonce, Chris Brown, Rihanna and many more.
There's something to be said about the relationship between R&B music and sampling.
Samples have featured just about everywhere in the genre - from old-school tunes courtesy of Destiny's Child and Ashanti, to current bangers from The Weeknd and Frank Ocean.
Some of them you may have already recognised, but others may really surprise you.
Take a look below to see what your favourite R&B artists have been sampling over the years!
1. DJ Khaled Feat. Rihanna & Bryson Tiller - 'Wild Thoughts'
DJ Khaled shook the world with his hit single 'Wild Thoughts' alongside Rihanna & Bryson Tiller. But his latin-themed anthem samples a famous guitar riff...
'Wild Thoughts' samples 'Maria Maria' by Santana & The Product G&B
The iconic guitar sample comes courtesy of legendary guitarist Carlos Santana. What a track!
2. Beyonce Feat. Jay Z- 'Crazy In Love'
It's the track that started it all. Bey's breakout song launched her from girl-group star into the solo diva that we know today. But did you know that this collaboration - with future hubbie Jay Z - uses a sample?

'Crazy In Love' samples 'Are You My Woman (Tell Me So)' by the Chi-Lites
Yep, the beat from Beyonce's 2003 smash hit was taken from the 70's R&B group the Chi-Lites.
3. Rihanna - 'SOS'
Taken from RiRi's second album 'A Girl Like Me', this throwback tune samples a very iconic tune...

'SOS' samples 'Tainted Love' performed by Gloria Jones
Originally recorded in 1964 by R&B singer-songwriter Gloria Jones, 'Tainted Love' has been sampled numerous times - this RiRi tune, however, is one of it's lesser known covers!
4. Chris Brown - 'Run It'
Breezy's breakout track 'Run It' was released in 2005, and features American rapper Juelz Santana. But did you spot the sample hidden within the catchy R&B track?

'Run It' samples 'I Know What Boys Like' by The Waitresses
This classic 80's track has been sampled in numerous tracks throughout the years, including Chris Brown's debut hit.
5. Usher - 'Good Kisser'
R&B legend Usher released 'Good Kisser' in 2014, and its everything we love - classic smooth, slick Usher. Disclosure remixed the original soon after, but there's a sample underneath it all that goes way back...

'Good Kisser' samples 'Montego Bay' by Bobby Bloom
Bobby Bloom was described as a bit of a one-hit wonder with this song, which was inspired by the city in Jamaica.
6. Ashanti - 'Foolish'
In 2002, it spent ten weeks at number one on the Billboard Hot 100 after it's release. Yep, Ashanti hit the nail on the head with this classic tune. But it was partially thanks to one R&B group...

'Foolish' samples 'Stay With Me' by DeBarge
Ashanti and her producer Irv Gotti sampled this 80's tune by soul collective DeBarge to help create her iconic debut.
7. Alicia Keys - 'Fallin'
Another smasher from a debut album, Alicia Keys hit us with 'Fallin' all the way back in 2001. Its widely known as one of her signature songs, but which legendary musical figure did she sample?

'Fallin' samples 'It's a Man's Man's Mans' World' by James Brown.
The unmistakable song samples one of James Brown's earliest hits, 'It's a Man's Man's Man's World'. Oringally released in 1966, Brown's influence impacted many of today's biggest R&B artists.
8. Frank Ocean - 'White Ferrari'
Taken from Frank's 2016 album 'Blonde', 'White Ferrari' is a down-tempo, sentimental track. It's one of the record's stand-out tunes, but you'll never guess who the authentic artist sampled...

'White Ferrari' samples 'Here, There and Everywhere' by The Beatles
This classic Beatles tune was written by Sir Paul McCartney and recorded for the band's 1966 album 'Revolver'. Once you listen to the original, you can definitely here the similarities.
9. Mary J Blige - 'Real Love'
Released all the way back in 1994, Mary J dropped this classic song as part of her debut album 'What's the 411?'. It sounds just as fresh now as it did back then - it's sample was only recorded 7 years before Mary's single.

'Real Love' samples 'Top Billin' by Audio Two
The old-school Hip-Hop duo hailed from Brooklyn, NYC, and were active until 1992. This was their biggest hit, and Mary J was obviously a fan.
10. The Weeknd - 'Often'
He may have just released his new album 'Starboy', but let's not forget one the Abel's biggest tunes. 'Often', however, samples a tune you (probably) will never have even heard...

'Often' samples '
Ben Gene Sana Mecburum' by Nükhet Duru
Turkish singer Nükhet Duru may be unknown here, but she has performed on TV shows, musicals, and films, and has received many awards over in her home country.
11. Jennifer Lopez - 'Get Right'
Everybody's favourite Bronx girl 'Jenny From The Block' hit us with 'Get Right' over a decade ago. The star's huge track features a sample from a song originally written by a man previously mentioned in this list...

'Get Right' samples '

Soul Power '74' by Maceo & The Macks

Yep, Maceo & The Macks reworked James Brown's classic tune back in 1974, hence the name. JLO then went on to sample that version herself, and the rest is R&B history.
12. Destiny's Child - 'Emotion'
You don't get more R&B than Destiny's Child, and their smash hit 'Emotions' is no exception. But did you know that this song is actually a cover?

'Emotion' samples 'Emotion' by Samantha Sang
Yep, 'Emotion' was originally written by Barry and Robin Gibb of The Bee Gees. Samantha Sang made the song famous in the 70's.
13. Tory Lanez - 'LUV'
Rising star Tory Lanez made it big this year with 'LUV', which peaked at number 4 in the US R&B/Hip-Hop chart. But if you thought it sounded a little bit familiar, you weren't wrong...

'LUV' sample 'Everyone Falls In Love' by Tanto Metro and Devonte
Tory sampled Jamaican dancehall duo Tanto Metro and Devonte and their 1997 hit 'Everyone Falls In Love' for one of the key hooks in his 2016 track.
14. Mariah Carey - 'Fantasy'
R&B legend and pop diva Mariah Carey nailed the old-school 90's vibe with 'Fantasy', which was later remixed by P Diddy. There is, however, one sample running throughout the original that most would have missed out on.

'Fantasy' samples 'Genius of Love' by Tom Tom Club
This sample runs heavily throughout the whole song, so new-wave band Tom Tom Club have songwriting credits on Mariah's track.
15. Blu Cantrell Feat. Sean Paul - 'Breathe'
Who could forget the early 00's classic? Blu Cantrall and Sean Paul topped the charts for four weeks in 2003 with 'Breathe', but there's a hidden sample in the track that you my never have noticed...

'Breathe' samples 'What's The Difference' by Dr. Dre Feat. Eminem & Xzibit
N.B. Dre's track also samples another song - 'Parce Que Tu Crois' by Charles Aznavour. Who knew?
16. Bryson Tiller - 'Exchange'
Bryson Tiller's 2015 smash hit took over the R&B world in a big way last year, as did his debut album 'Trapsoul'. But it seems even Bryson looked to other sources for inspiration when creating this banger.

'Exchange' samples 'Swing My Way'
by

K. P. & Envyi

This tune was massive in 1997. The producer of the track, Mixzo, later went on to proceed for the likes of Aaliyah, Lil Wayne and Ludacris.
17. Amerie - '1 Thing'
Her biggest song to date, Amerie smash it out the park with '1 Thing' back in 2005. Catchy, funky and with a high-energy music video to boot. But who did she sample?

'1 Thing' samples 'Oh! Calcutta!' by The Meters
The song is influenced by funky go-go rhythms, and uses a sample of 70's funk band The Meters' "Oh, Calcutta!"
18. Rihanna - '
Don't Stop the Music'
RiRi's pop-R&B jam took over in 2007, and was featured not the singer's platinum-selling third studio album. Producers like Jay Z, Timbaland and Ne-Yo all took part in the creative process, but one other legendary star holds writing credit on this tune...

'Don't Stop The Music' samples 'Wanna Be Startin' Somethin' by Michael Jackson
You know that catchy little "Mama-say, mama-sa, ma-ma-ko-ssa" line? Yeah, that was from MJ's 1983 single 'Wanna Be Startin' Somethin'.