50 'Invasion of Privacy' Lyrics For When You Need The Perfect Instagram Caption
6 April 2018, 12:54 | Updated: 10 April 2018, 14:44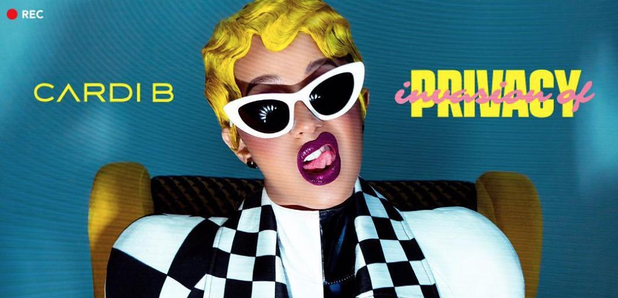 OKURRRRR.
Cardi B has finally unleashed her hotly-anticipated debut album 'Invasion of Privacy' and it's laden with super-quotable lyrics.
The 'Bodak Yellow' rap sensation shook the music world with her breakthrough single and, almost a year later, the rising star continues to dominate.
With collaborations alongside Migos, Chance The Rapper, SZA and more of Hip-Hop's elite, Bardi is coming for the crown of the Queen Of Rap!
Get ready for some female empowerment, tongue-in-cheek lyrics and a whole lot of alleged references to her relationship with her fiancé, Offset...
On Cheating Rumours
"Gave you TLC, you wanna creep and sh*t" - 'Careful'
"I'mma make a bowl of cereal with a teaspoon of bleach" - 'Thru Your Phone'
"I'm out here tryna find someone/ So the ring on my phone, ring on my finger" - 'Ring'
"All I can see is you and her in different scenarios / Beyoncé on my stereo, 'Resentment' on repeat" - 'Thru Your Phone'
"You quit, then that's it, I'ma throw in the towel" - 'Ring'
"You gon' gain the whole world but is it worth the girl that you're losin'?" - 'Careful'
"I don't wanna hear 'bout invasion of privacy / I had a feeling, it turns out you lie to me" - 'Thru Your Phone'
"Tell me where your mind is, drop a pin, what's the coordinates?" - 'Careful'
"Leave his texts on read, leave his balls on blue" - 'I Do'
"This sh*t is eating me, you sleeping peacefully" - 'Thru Your Phone'
"It's gon' hurt me to hate you, but lovin' you's worse" - 'Careful'
On Being A Boss
"I've been that bitch since pajamas with footies" - 'Drip'
"Knock me down nine times, but I get up ten" - 'Get Up 10'
"I run this sh*t like cardio" - 'I Like It'
"I'm a boss in a skirt" - 'She Bad'
"Now I'm a boss, I write my own name on the checks" - 'I Do'
"I hit this grind, the roof gon' collapse" - 'Moneybags'
"I'm my own competition, I'm competing with myself" - 'Best Life'
"I'm provocative, it's my prerogative" - 'I Do'
"Made a couple M's with my best friends / Turned all my L's into lessons" - 'Best Life'
On Money (a.k.a. 'Shmoneyyyyyy')
"Get money, go hard, you're motherf*cking right" - 'Get Up 10'
"I'm a rich b*tch and I smell like it" - 'I Do'
"I like million dollar deals / Where's my pen, bitch I'm signin'" - 'I Like It'
"Don't matter if you f*ck with me, I get money regardless" - 'Bickenhead'
"I be in and out them banks so much, I know they're tired of me" - 'Bodak Yellow'
"I think you broke h**s need to get a job" - 'I Do'
"I don't dance now, I make money moves" - 'Bodak Yellow'
"You know how I'm rockin', but my watch is freezed up" - 'Bickenhead'
On Fashion
"It's my birthday, at least that's what I'm dressed like" - 'Best Life'
"These expensive, these is red bottoms, these is bloody shoes" - 'Bodak Yellow'
"I wear Off-White at church" - 'She Bad'
"I like those Balenciagas The ones that look like socks" - 'I Like It'
"Red bottom MJ, moonwalk on a b*tch" - 'Bartier Cardi'
"I could buy designer, but this Fashion Nova fit" - 'She Bad'
"Step in this bitch in Givenchy / F*ck up a check in Givenchy" - 'Bartier Cardi'
"I'll let him get what he want, he buy me Yves Saint Laurent" - 'Bodak Yellow
On Success
"I was covered in dollars, now I'm dripping in jewels" - 'Get Up 10'
"This some real-life fairy tale Binderella sh*t" - 'Best Life'
"Had to talk to God, dropped down, and prayed for this" - 'Best Life'
"I said luxury apartments, I'm young and I'm heartless" - 'Bickenhead'
"Went from small-a** apartments to walking red carpets" - 'Best Life'
"I used to live in the P's, now it's a crib with a gate" - 'Bodak Yellow
On Fake Friends
"B*tches stab you in your back while they smiling in your face" - 'Get Up 10'
"F*ck your little fake a** friends / Come around acting like they my bros" - 'Thru Your Phone'
"These b*tches salty, they sodium / They jelly, petroleum" - 'Moneybags'
"I don't bother with these h**s, don't let these h**s bother me" - 'Bodak Yellow'
On Body Confidence
"The thing on my hip whip b*tches in to shape / That's what I call a f*cking waist trainer" - 'Get Up 10'
"Slim waist, a** fat, my sh*t is caked up" - 'Bickenhead'
"I said "Bae, it's a snack," he said it's a entrée" - 'Moneybags'
"With them pretty a** twins, you look like Beyoncé" - 'Moneybags'