The 35 Best Afrobeats Songs Of 2014
5 December 2014, 09:14 | Updated: 11 May 2017, 15:53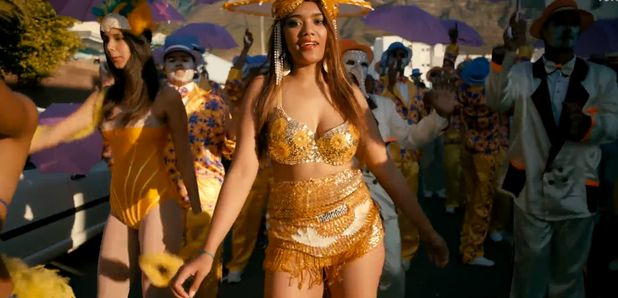 Abrantee rounds up his 35 favourite Afrobeats songs to drop this year. Vote in the comments for your favourite song to help him narrow it down to the top 10.
All year Abrantee's provided his monthly Afrobeats chart, highlighting the top 10 Afrobeats songs of the month. Now as the year comes to an end he rounds up his top 10 Afrobeats songs of 2014.
But with so many good songs from the likes of Davido, Wizkid, Mr 2Kay and more to choose from, the furthest Abrantee's got is a 35-song shortlist.
Have a listen to Abrantee's 35 favourite Afrobeats songs of 2014 below and help him to choose what should make the top 10 by voting for your favourite Afrobeats song of the year in the comments below. We'll then round up the top ten Afrobeats songs based on your votes.
Mavins Feat. Don Jazzy, Tiwa Savage, Dr Sid, D Prince, Reekado Banks, Korede Bello and Di'Ja - 'Dorobucci'
Don Jazzy and The Mavin Crew released a big Afrobeats track this year!
Moelogo - The Baddest'
Moelogo picked up the momentum in 2014 right where he left off in 2013 with the release of this massive new tune titled 'The Baddest'
Dr Sid Feat. Don Jazzy - 'Surelere'
Check out the official video for Dr Sid's 'Surelere' above.
Lil Kesh Feat. Davido & Olamide - 'Shoki'
Lil Shoki who is seriously turning heads on the Afrobeats scene right now, went straight in at number one on Abrantee's monthly Afrobeats chart with this. With Davido and Shoki on board, it's hard to go wrong.
Atumpan Feat. Samini - 'Regina'
Atumpan recruited dancehall master Samini for his new single 'Regina' produced by MixMaster Garzy. It was his first single after signing with the UK's 'HardBoy Music' this year and it's a gooden.
Patoranking Feat. Tiwah Savage - 'Girlie 'O' Remix'
Hit play on Tiwah Savage's huge remix of Patoranking's 'Girlie O.'
VVIP Feat. Idris Elba - 'Selfie (Remix)'
VVIP, made up of Reggie Rockstone, Joseph Nana Ofori (Prodigal), and Abdul Hamid Ibrahim (Zeal), released their debut single 'Selfie' in April and then raised their game by getting Capital XTRA DJ and Holywood actor Idris Elba on the remix, which is huge.
4x4 Feat. Davido - 'Baby Dance'
Davido has jumped on 4x4's new track 'Baby Dance.'
Kwamz And Flava - 'Wo Nani No'
In case you were wondering, 'Wo Onane No' apparently means ''Lift your leg up'' - now get singing along.
Sarodie Feat. Castro - 'Adonai'
Castro's remix of Sarkodie's 'Adonai' managed to climb to the top of the Afrobeat's monthly chart this year.
D-Black Feat. Casto - 'Personal Person'
Ghanian rapper D-Black Da Ghana Bwouy'se Castro-assisted single 'Personal Person' was the first single to be released off his upcoming third studio album and is getting love from all over the country. Look out for appearances from fya, Bisa Kdei, Peace Hyde, Viasat 1 and DJ Breezy and the BAM Crew in the official video above.
May7ven - 'What Ur Feelin'
May7ven's track, released in August and written by herself, managed to sit comfortable on the chart for most of the second half of the year.
P Square Feat. T.I - 'Ejajo'
They were named BET's most popular African music group and the most bankable African artists by Forbes Africa, now they've recruited one of the US' biggest rappers, T.I for new track 'Ejajo', out on iTunes now.
Zafi B Feat. Mr 2 Kay - 'Shake Your Sisi'
UK-based rising Afrobeats star Zafi B caught everyones attention with her debut single 'Number 1' last year, and now she's back with new track 'Shake Your Sisi' and Mr 2Kay has got involved for the remix.
Wiz Kid - 'Show You The Money'
Produced by Shizzi, WizKid took to the street he grew up in the film the video for his latest dance-floor filler in an effort to show that he is still in touch with his roots.
Yemi Alade - 'Johnny'
The video has had nearly 2 million views on YouTube so far, hit play above and see why.
L.A.X Feat. Wizkid - 'Ginger'
DJ Xclusive Feat. Wizkid - 'Jeje'
Longtime collaborators DJ Xclusive and Wizkid are back together for this big new club track that dropped in June.
P Square Feat. Don Jazzy - 'Collabo'
Fresh from P Square's recently dropped sixth studio album, hear their Don Jazzy collaboration 'Collabo.'
Burnaboy - 'Don Gorgon'
Don't forget to check out the colourful video for this one.
Fuse ODG Feat. Sean Paul - 'Dangerous Love'
The song, which received its exclusive first play on Capital XTRA, follows Fuse ODG's December 2013 release 'Million Pound Girl' which peaked at number five in the UK Singles Chart. It will feature on Fuse's upcoming album TINA.
Skales - 'Shake Body'
This track was a welcomed addition to the summer when it dropped back in June.
Mr 2Kay Feat. Patoranking - 'Bad Girl Special '
Wizkid - 'Ojuelegba'
Expect more big things from Wizkid in 2015, including a collaboration with Chris Brown.
Davido - 'Owo Ni Koko'
It might have only been out for a month but Davido's 'Owo Ni Koko' is already a contender for one of the top 10 songs of the year.
Sona - 'No Wahala'
'No Wahala' is sultry and smooth with pure R&B sensibilities. This track was written and produced by the British Nigerian singer herself.
Sean Tizzle - 'Rara'
Wande Cole - 'Baby Hello'
If it doesn't make it as your afrobeats track of the year, surely Wande Coal's 'Baby Hello' deserve an award for one of the best videos of the year?
Sona - 'Ljo'
Sona has brought in the big hits this year on YouTube and Soundcloud with his sound being heard by more people than ever.
Davido - 'Aye'
Since its release in February the video for Davido's 'Aye' has had more than 12 million views. The numbers don't lie!
Castro Feat. D-Black - 'Sehor'
Does Casto and D-Black's collaboration deserve a place in the Afrobeats top 10 of 2014?
Stonebwoy Feat. Sarkodie - 'Baafira'
If you didn't know yet, 'Baafira' means "talk less, do more." Amen.
Sarkodie Feat. Bisa Kdei - 'Chingham'
Shata Wale Feat. Sarkodie - 'Dancehall Commando'
A huge year for Sarkodie who has made it into Abrantee's monthly afrobeats chart several times in 2014 and appears more than once in his yearly round-up.
Inyaya - 'Mr Oreo'
'Mr Oreo' featured on the Triple MG album and was produced by in-house producer Selebobo. Should it make the top ten?
Let us know which songs you think should make Abrantee's 'Top 10 Afrobeats Songs of 2014' list in the comments below.