13 Surprising Performances From Artists Before They Were Famous
19 January 2018, 15:42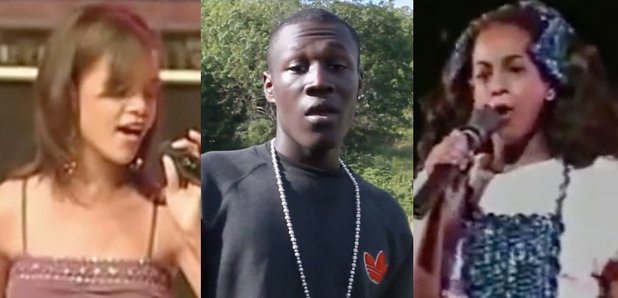 From humble beginnings to Grammy Awards...
Lets face it - it's hard to imagine a world without Beyonce, Drake and Rihanna dominating the charts, right?
But, long before they were household names, some of your favourite artists were taking to the stage and honing their craft in the hopes of achieving superstardom.
From belting out ballads at local talent shows to spitting bars in front of their mates, today's hitmakers have come a long way since their early days.
Check out these performances of stars before they were famous...
Beyonce
At just seven years old, Beyonce Knowles was already owning the stage like the professional she is today.
Kanye West
West's characteristically soulful, intense rapping style is on full display here. Platinum albums are on the way, Ye...
Drake
Back in his Degrassi days, a young Drizzy was busy practising his epic flows and smooth melodies in preparation for his future chart success.
Rihanna
This sweet performance by a young RiRi is worlds away the Bad Gal we know and love today.
Jay Z
In one of his first television performances, Hov proves he's got bars for days with this acapella joint.
Ne-Yo
Performing under his real name, Shaffer Chimere Smith, Ne-Yo proves here that he has always been a talented triple threat.
Lauryn Hill
She may have been booed on stage whilst performing, but, eight Grammy Awards later, it's pretty clear Lauryn Hill got the last laugh.
Alicia Keys
At just nine years old, Alicia Keys is unmistakable as the piano-playing R&B songstress we love to hear today.
Stormzy
Not only does Big Mike prove his talents here, but he also shows an insane level of gratitude to his supported that still resides in him today.
Nicki Minaj
Before the pink wigs and twerk-heavy videos, a young Nicki Minaj was taking her sassy bars to the streets.
Kendrick Lamar
This high school rap battle sees Kendrick set the bar sky-high for young rappers everywhere. An unreal talent since day one.
Chris Brown
In his first ever music video, a baby-faced Breezy sings to his high school sweetheart with his distinctive R&B pipes.
Iggy Azalea
With her iconic ice-blonde ponytail and slick flow, this stripped-back video from Iggy is a big contrast to the movie-style visuals she creates today.