14 Of The Best Hip Hop Songs Of All Time
11 May 2018, 16:14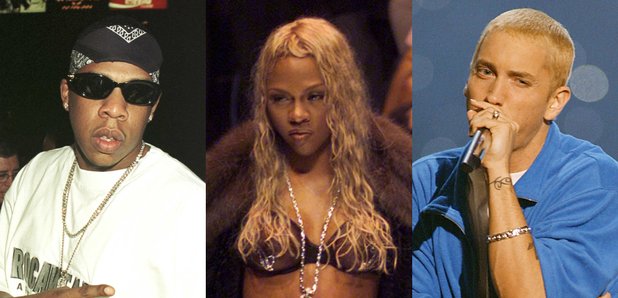 Your ultimate playlist featuring some of the best Hip Hop songs of all time right from the old school to the new...
Hip Hop has grown heaps and bounds since its inception in the 70s and the 90s was a defining moment for the sound. With the likes of Snoop Dogg, NWA and Jay Z killing the scene, not forgetting Hip Hop legends like the late 2Pac and Biggie, the 90s was definitely a decade that gave us some timeless music. In appreciation of the genre, here's a list of some of the best Hip Hop songs of all time in no particular order.
(Warning: Some of these tracks contain strong language that some people may find offensive.)
The Notorious B.I.G. – 'Big Poppa'
'Throw your hands in the air if you'se a true playerrrr.' Biggie's smooth club anthem 'Big Poppa' for the ladies is why he is the GOAT.
2Pac- 'Do For Love'
Tupac's 'Do For Love' is guaranteed to get you in your feelings, with lyrics like: "What you won't do, do for love / You tried everything, but you don't give up" it's bound to get you thinking about a bae.
Disclaimer: The following video has been identified by Epilepsy Action to potentially trigger seizures for people with photosensitive epilepsy. Viewer discretion is advised.
Jay Z- 'N***** In Paris'
Jay Z and Kanye joined forces on 'N***** In Paris' the hit single off of their joint album 'Watch The Throne.' When this song was released you almost couldn't escape it.
Kendrick Lamar- 'Swimming Pools (Drank)'
'Swimming Pools (Drank)' was one of the singles off Kendrick's major label debut album, 'Good Kid, M.A.A.D City' and it was a song that propelled him to the mainstream.
J Cole- 'Work Out'
J Cole always delivers and he did that on this single released in 2011 taken off of the album 'Cole World: The Sideline Story.'
Kanye West- 'Touch The Sky'
Kanye West's 'Touch The Sky' is from earlier on in his career, the catchy single see's Kanye declare that on the day he dies, he's gonna touch the sky.
OutKast- 'Ms Jackson'
When you listen to this song you cannot not sing along. This song is the perfect karaoke song too.
Missy Elliott- 'Work It'
Missy Elliott is a queen of rhymes, dance moves and epic music videos and she blessed us with hit after hit. 'Work It' was one of the songs off of Missy's 2006 'Respect M.E' album.
Lil Kim- 'No Matter What They Say'
This song is basically the anthem to put on blast when you're shrugging off your haters. Forreal.
Eve- 'Let Me Blow Your Mind'
The drop at the beginning of this song is one that can't be matched, to be honest. Wherever you are when you hear that interlude before the beat drops you immediately know what time it is. This song is proof that Eve is definitely that girl.
Nas- 'If I Rule The World'
This song sees Nas imagine what things would be like if he ruled the world, one thing he guarantees is he would "free all my sons." This tune got Nas nominated for a Grammy in 1997.
50 Cent- 'In The Club'
This song will forever be a banger. 'In The Club' gave us the classic line "Go, go, go, go shawty it's your birthday." Released in 2003, this song will still have you bopping your head and shaking a leg nearly two decades later.
NWA- 'Straight Outta Compton'
N.W.A burst on the 80s rap scene and quickly became a force to be reckoned with. N.W.A were not ones to hold back with their lyrics and were not afraid to be controversial following this song with 'F*ck Tha Police.'
Coolio- 'Gangsta's Paradise'
This 1995 Classic sees Coolio reflect on what it means to be a conflicted gangsta not sure if he's going to live to see his next birthday. The catchy chorus, beat and Coolio's flow saw him take home the 1996 Grammy award for Best Rap Solo Performance.