90s Hip Hop Songs That'll Make You Nostalgic AF
11 May 2018, 16:19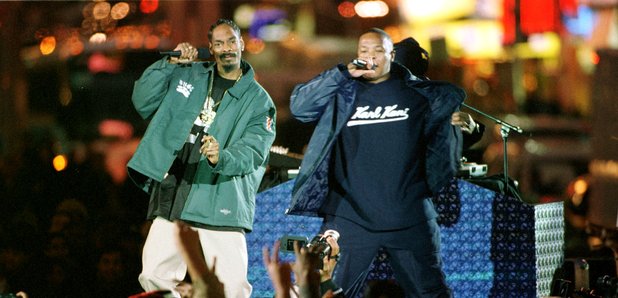 The 90s was a huge era for music especially Hip Hop, so here's a look back at some of the songs you might remember from the special decade...
The 90s was definitely a great time for Hip Hop music and this gallery proves it. With the likes of Hip Hop royalty like the late Biggie and 2Pac going head to head, Snoop Dogg, Dr Dre and Eminem in their prime giving the world timeless music, the 90s was definitely a time to be alive.
Prepare to feel nostalgic AF as you work your way through this list of throwback songs from the 90s...
The Notorious B.I.G- 'Mo Money Mo Problems'
'Mo Money Mo Problems' was the second single released off of Biggie's 'Life After Death' album after he died. Going straight to number one and following the success of 'Hypnotise' which also went straight to number one, this made Biggie the only artist to have received two number ones in the Billboards Hot 100 charts posthumously.
Coolio- 'Gangsta's Paradise'
This single saw Coolio win a Grammy at the 1996 awards as well as cementing its place in the list of best selling singles of all time, selling 6 million singles worldwide.
MC Hammer- 'U Can't Touch This'
This song is catchy AF and it's still as catchy 28 years later. This ultimate throw back song still gets people moving until this day.
Jay Z- 'Hard Knock Life'
If you've ever watched the classic 1982 film 'Annie' then you'll have known why this song sounded so familiar. Jay Z sampled 'It's A Hard Knock Life' from the movie making the single an easy favourite.
The Fugees- 'Ready Or Not'
This smooth, melodic tune is off The Fugees' second and final album released in 1996. The band featured Grammy-award winning singer Lauryn Hill, Wyclef Jean and Pras.
Puff Daddy ft. Faith Evans and 112- 'I'll Be Missing You'
This emotional single was released by P Diddy following Biggie's untimely death back in 1997. P Diddy and Biggie were really close and the song is a tribute to late rapper.
DJ Jazzy Jeff and The Fresh Prince- 'Summertime'
If this song doesn't make you want to cruise around a sunny city like LA with the roof of your car winded down as this song blasts through the speakers then we don't know what will. Friends and 'The Fresh Prince Of Bel-Air' costars, DJ Jazzy Jeff and the Fresh Prince himself, Will Smith blessed us with this ultimate summer jam.
Salt n Pepa ft. En Vogue- 'Whatta Man'
What happens when two badass girl groups from the 80s get together, you get absolute hits like 'Whatta Man.' If this song doesn't take you back to the 90s then we don't know what will.
House Of Pain- 'Jump Around'
Just like its name this song is sure to make you wanna 'Jump Around.' This club banger was released 25 years ago and it still drops every single time.
Heavy D And The Boyz- 'Now That We Found Love'
The 90s gave us some solid, timeless dance music and this song is proof.
Ice Cube- 'It Was A Good Day'
Ice Cube released this track in 1993 and it sees him recount the events of what to him was a "good day."
Snoop Dogg- 'Gin And Juice'
'Gin And Juice' was nominated for a Grammy award in 1995 for 'Best Rap Solo Performance' and the single was produced by Dr Dre.
2 Pac- 'Hit Em Up'
'Hit 'Em Up' can be described as one of the biggest diss tracks in Hip Hop history. West Coast's very own 2Pac fires shots at his East cost nemesis and rivals Biggie and P Diddy as well as Biggie's wife Faith Evans and Lil Kim who he reportedly had an affair with. Three months after the release of the track in September 1996 2Pac was killed in a drive-by shooting.
Biggie- 'Hypnotize'
'Hypnotize' was the last song that Biggie released before he was killed just a week later. The song appears on his 'Life After Death' album and went to number one, making him one of the few artists to get a number one posthumously.
Dr Dre ft Snoop Dogg- 'Still D.R.E'
'Still Dre' features Snoop Dogg and it was released in 1999. The track is one of the biggest singles off of Dr. Dre's album 2001.
Eminem- 'The Real Slim Shady'
'The Real Slim Shady' is a song that really put Eminem on the map as a force to be reckoned with. The single released in 2000 won Eminem-real name Marshall Mathers- a number of awards including a Grammy for 'Best Rap Solo Performance' in 2001.