What's The 'Guava Island' Trailer, Who's In The Cast With Rihanna And Childish Gambino, Will It Be Streamed At Coachella ?
9 April 2019, 17:46 | Updated: 11 April 2019, 11:03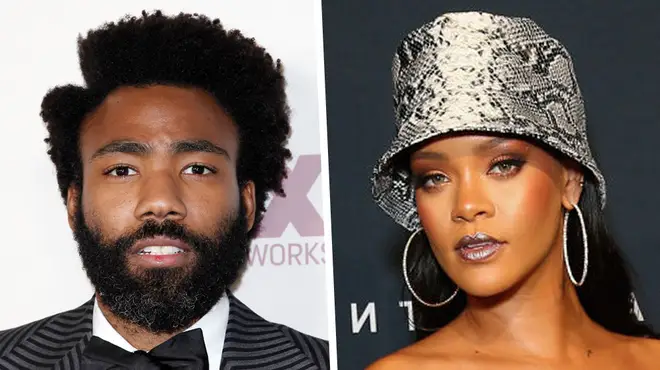 Rihanna and Childish Gambino are teaming up in new movie, 'Guava Island', which will make its debut at Coachella 2019.
In April, it was announced that Rhi Rhi and Donald Glover would be starring in a brand new movie together.
The project has been kept under wraps for the most part, but here's what we know so far...
What is 'Guava Island' ?
'Guava Island' is a tropical thriller film that casts Donald Glover (Childish Gambino) as a musician who tries to pull off a scheme to rob his way into the good life, which quickly gets him in over his head. 'Guava Island' is an upcoming film directed by Hiro Murai. It stars Childish Gambino and Rihanna as the lead roles.
Hiro Murai, who worked with Glover on his FX show "Atlanta" and Childish Gambino videos "This Is America" and "Sober" directed 'Guava Island'
The 'Guava Island' Trailer
The trailer for the 'Guava Island' debuted on November 24th 2018, at Childish Gambino's PHAROS Festival in New Zealand. The 30-second advertisement features Glover singing, and ending with "I'll see you at the show, everyone".
In the opening clip of the teaser trailer for 'Guava Island', Donald Glover plays his guitar and ponders his surroundings, saying: "We live in paradise, but none of us actually have the time or the means to live here."
After that, Glover scrambles between the crowds in the steets of Havana. The scene shows Glover running through parades and gangs as if he is on a mission.
From the teaser trailer, the film seems vibrant, atmospheric and movement-heavy.
The trailer reveals that Rihanna plays Donald Glover's love interest in the film.
Who's in the cast with Rihanna and Childish Gambino ?
The the film will feature Robyn Rihanna Fenty (Rihanna) and Donald Glover (Childish Gambino). The film will also feature two British acting stars, Letitia Wright and Nonso Anozie.
Letitia Wright is a British-Guyanese actress. She is known for starring in Marvel films such as Black Panther (2018) and Avengers: Infinity War (2018). She also starred in drama film Urban Hymn in 2015. The actress also starred in The Commuter (2018) and Ready Player One (2018). Her resumé continues with many other amazing series and films she has starred in.
Nonso Anozie is a London-bred actor who starred in Cinderella (2015), Conan the Barbarian (2011) and Happy-Go-Lucky (2008).
How can I watch 'Guava Island' ?
On Saturday 13th April at 12:01 a.m. (Pacific), the 'Guava Island' film is set to arrive on Amazon Prime.
YouTube announced that 'Guava Island' is going to be a one-off special screening. For those who will not be at Coachella, a live stream will be available to view online at Youtube.com/coachella.
How Do We Know 'Guava Island' is Official
On April 5, 2019, advertisements for Guava Island appeared on Spotify indicating that something will happen on "Saturday Night | April 13". If a Spotify user clicked on the advertisement, it would lead them to the 'Rap Caviar' playlist curated by Spotify, which is currently "presented by Guava Island".
When is it being premiered at Coachella ?
The YouTube premiere of the 'Guava Island' film will stream live on Saturday night, April 13th at Coachella. The premiere date is one day after Gambino is set to headline at Coachella. The film will be available on YouTube's Livestream.