10 Inspiring Women In Hip-Hop You Should Follow On Instagram
7 March 2019, 16:53 | Updated: 7 March 2019, 16:56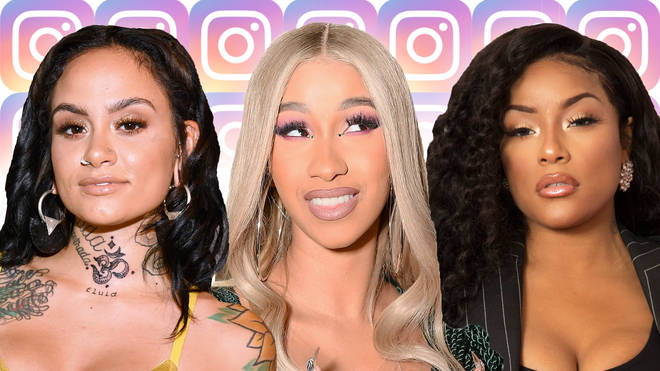 In honour of International Women's Day, we're celebrating some of the most motivational women in Hip-Hop and R&B. From Cardi B to Kehlani, here are the most poppin' Instagram accounts if you're looking for some inspiration.
Instagram can feel like a crowded place. There are millions of different accounts to follow, and it can all feel a bit overwhelming when you're trying to sift through the good and the bad.
But that's where the ladies of Hip-Hop come in - because if you're looking for motivational captions, inspirational videos and some pretty boss posts, they've got you covered.
Form Cardi B's aspirational come-up story to Missy Elliott's encouraging words of wisdom, these are the girl power Instagram accounts you need to be following.
Happy International Women's Day!
Cardi B

Everybody needs a bit of Binderella on their timeline. Cardi isn't one to forget where she came from, and speckled between the eye-watering outfits and lavish purchases (both of which we're here for) are some touching reminders that she's still Bardi from the Bronx.

Missy Elliott

Get ready to feel energised! Missy 'Misdemeanor' Elliott is about to enter your life in the most positive way possible. Her constant well-wishes and motivational speeches feel sincere, and are the perfect antidote to a troubled time. Big love, Missy.

Jennifer Lopez

Jenny From The Block has always channeled a positive energy. Her Instagram feed is a hub of good vibes and well-wishes (and cute AF videos of her kids.) Also - she's on top when it comes to gym-spiration. Her abs alone are a reason to follow.

Kehlani

Spiritual mama Kehlani is a sparkling gem in the big wide world of Instagram. Her open, honest and accepting nature is what makes her feed such a warm, comfortable environment for her followers. Her positivity is infectious - and we'll miss her baby bump selfies when she welcomes her mini Lani.

Mary J Blige

YES MARY J! The legendary R&B queen is the definition of the phrase "Live Your Best Life." Mary frequently posts inspirational quotes and passages, encouraging us all to lift each other up instead of tearing others down.

Ciara

Ciara shows all aspects of her life on her Instagram page - her travels, her husband, her children, her music career and more. She encourages her followers to remain thankful and appreciative - and the adorable videos of her kids are a big reason to follow.

Beyoncé

From highlighting new talent in both music and fashion, to encouraging her followers to be more eco-friendly in trying a vegan lifestyle, Bey is here to open your mind to different ideas. And obviously, she's goals AF.

Rihanna

Where do we start with Rihanna? The Bajan queen is a singer, actress, business woman, entrepreneur, philanthropist, award-winner... the list goes on. Her Instagram feed is a constant reminder of her openness and inclusivity - enter, her groundbreaking Fenty Beauty brand.

Stefflon Don

Who else but the Don herself to leave you inspired when you're feeling lacklustre? The 'Hurtin Me' rapstress frequently reflects on her journey in music, and encourages her followers with motivational words. Sign us up.

Ashanti

R&B princess Ashanti is one of the most humble in the game. Her feed is flooded with love and appreciation for her fans, and she reminds us all to stay grounded, no matter how our lives evolve.