Tyga Defends His Explicit 'Kyoto' Album Cover Following Online Backlash
26 January 2018, 11:30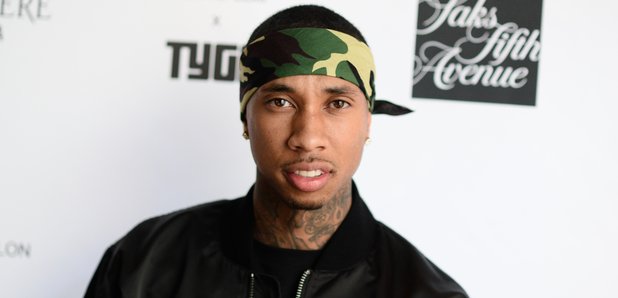 The artwork caused controversy this week.
Tyga has faced a great deal of backlash over the artwork for his upcoming album 'Kyoto' in recent days.
The cover of said album - which drops on 16th February - features what many deem to be an explicit image of a naked half-woman, half-tiger figure exposing herself.
In his initial response, the ex-boyfriend of Kylie Jenner posted an image of the artwork's designer, famous Japanese artist Hajime Sorayama, holding the artwork whilst standing next to a giant naked robot.
However, after being questioned by TMZ on the eyebrow-raising image, Tyga replied: "It's lit,"
"It's art, man. It's art." he added.
People have accused the cover of being disrespectful to the Japanese flag, while Tyga claims that the red circle on the cover actually resembles a "rising sun".
In response to people describing the image as "furry porn", the rapper said: "I don't even know what that is."
Meanwhile, Tyga recently announced the dates of his upcoming European tour, with UK dates including shows at London's Kentish Town Forum and Manchester's Victoria Warehouse in March.