People Are Imagining Tyga's Reaction To Kylie Jenner's New Baby & The Responses Are Hilarious
5 February 2018, 13:06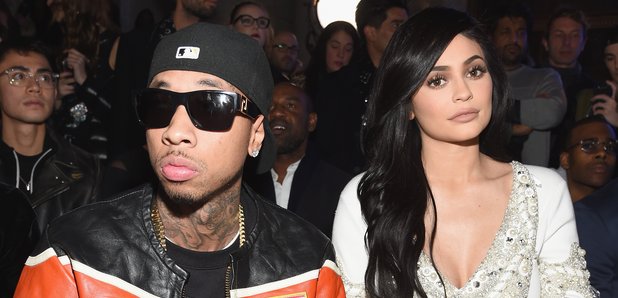 This is savage!
Following the birth of Kylie Jenner's baby girl with Travis Scott, fans are already speculating about Tyga's reaction to the news.
Kylie, 20, made the huge announcement last night (4th February) across her social media platforms and released a video showing her secret pregnancy over the past 9 months.
However fans were quick to seek the response of Tyga, who was in an on-off relationship with Kylie Jenner for over two years.
*Kylie Jenner announces her baby with Travis Scott*

Tyga:
https://t.co/u3DQRjGTLg

— RJ (@itsrjhill) February 4, 2018
@Tyga after he watched Kylie Jenner's pregnancy journey video pic.twitter.com/PI3LkuKxnD

— Ash (@ashleyy2dope_) February 5, 2018
Tyga watchig this video like pic.twitter.com/fZetv9uz2H

— Appie (@AppieTweets) February 4, 2018
People then weighed in on Kylie Jenner and Tyga's complicated relationship.
kylie jenner & tyga we're together for more than 3 years. kylie & travis scott have been together for less than a year & already have a beautiful child. time doesn't define love. love defines love.

— kc (@karinaaconti) February 4, 2018
i thought kylie jenner was still with tyga like 9 months ago when did travis scott come along lmao

— liam (@LlAMKAY) February 4, 2018
I know Tyga is sick that Travis Scott got Kylie Jenner pregnant so quick

— THE BLACK GOKU (@BigNeechi) February 4, 2018
Imagine if kylie Jenner had her baby with tyga, trying to explain the baby's relation to dream would be a task in itself

— Lucy (@luccyburton) February 5, 2018
Somebody go check on tyga

— lushlife (@space_fill) February 4, 2018
Tyga is yet to officially comment on the situation.
However the rapper is currently preparing to release his new album 'KYOTO' on 16th February.
The artwork for the project sparked lots of controversy over its explicit content.