Tyga Accused Of Stealing The Beat From Lotto Boyzz 'HitList' & They're Not Happy
21 February 2018, 12:11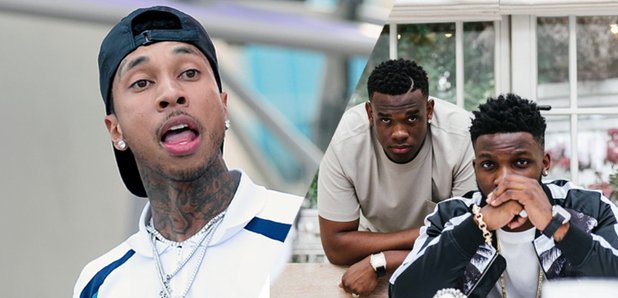 Tyga was previously called out for copying the beat of Drake's 'Controlla'.
Following the release of his new album 'Kyoto' last week, Tyga has come under fire once again.
The California rapper, who faced criticism after unveiling the controversial artwork for the album, has been accused of stealing a beat for one of his songs.
On closer inspection of the Tory Lanez-featured track 'Faithful', keen-eared listeners heard a strong resemblance to a song by Birmingham duo Lotto Boyzz, 'HitList'.
Soon enough, Lotto Boyzz caught onto the situation and issued a series of messages aimed at Tyga on Instagram.
"You lot F*cking seen this?" they wrote, "Tag @kinggoldchains and let him know he owes us Big £". Listen to the tracks below.
Tyga has made himself known as a fan of British R&B in the past, previously posting videos of himself listening to rising stars like J Hus.
And this isn't the first time Tyga has been accused of stealing sounds - back in 2016, the rapper was targeted after allegedly copying the beat from Drake's 'Controlla' for his song '1 Of 1'.
In response to the ongoing drama, Twitter users are flagging up the issue in big way.
Thought Spotify was bugging but @Tyga fully robbed @lottoboyzz_ hitlist beat pic.twitter.com/NRRd4RL6fA

— Anti (@FxckAyy) 20 February 2018
Is he going to sample the whole beat then. You might as well call it a remix. This is why Tyga ain't considered one of the best

— Abdulqadir (@TripleA_22) 21 February 2018
Rah Tyga ft Tory Lanez new tune sounds a lot like @lottoboyzz_ "Hitlist"

— Smooth Fuego (@smoothfuego1) 20 February 2018
Tyga robbing Lotto Boyzz Hitlist beat,are you kidding me #payupboy

— Mo Jamil (@MoJamil) 20 February 2018
@Tyga Stealing beats like No tomorrow. Stealing @lottoboyzz_ Beat for Faithful. SUE THAT MAN #Thief

— Adam (@dmadthegreat) 20 February 2018
@lottoboyzz_ better sue and collect that £££ from @Tyga pic.twitter.com/oCLchCDEMF

— PeppermintThinker (@cool_thoughtsLW) 21 February 2018
Tyga is yet to respond to the news.
Meanwhile, the 'Temperature' rapper allegedly demanded a paternity test over Kylie Jenner's baby, Stormi Webster.
Speaking on the issue in a recent interview, Tyga claimed that there was "no bad blood" between the pair.