Soulja Boy Claps Back With Diss Track Responding To Tyga's L.A Leakers Freestyle
26 February 2019, 15:40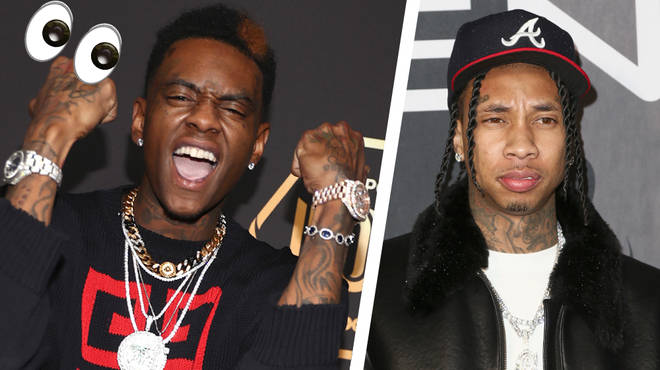 Soulja Boy fires back in "Thotiana" diss track following Tyga's L.A Leakers Freestyle where he takes jabs at Soulja. It is officially a rap beef...
Soulja Boy trolling Tyga has been one of the most talked about topics on social media for the past week. Soulja Boy has dissed Tyga on social media and has now released a diss track.
After dealing with days of Soulja Boy's trolling, Tyga decided to respond with a freestyle. However, Soulja Boy clapped back with a diss track.
The "Taste" released a "Thotiana" freestyle on L.A Leakers Monday morning (Feb 25th) following a series of tweets Soulja Boy made the Sunday night. Soulja Boy got real personal in a social media rant on Sunday night (Feb 24th).
Tyga's LA. Leakers Freestyle cause a stir on social media as he fired back at Soulja Boy with his bars. In the freestyle, Tyga raps the lyrics:
"Seven million records, nine months, where Soulja at?/ I can make the same song, Bitches still play that/ Running around saying that you made me, why you say that?"
After a few hours, Soulja Boy did not wait long to release his diss track and quickly clapped at Tyga. In Soulja's diss track, he mentions sleeping with Tyga's "baby mama" (Blac Chyna) with their child in the next room. Soulja Boy raps the lyrics:
"Niggas don't want drama/ Word around town, I f*cked his baby mama/ Yeah, ka-boom/ With your son in the other room,".
Soulja Boy starts the rap off with "First off, who's Tyga?" and immediately drags his fans in to see what he's going to say next. He continues "Big Drako, everybody now I'm on fire, Say you had the biggest comeback you a liar, Yeah bad bitch thick thighs like Malia"
An hour after releasing his remix to "Thotiana", Soulja Boy release another song dissing Tyga and DJ Akademikz. The song is called "Pressure" and features Go Yayo. The rapper further rips into Tyga.
Soulja Boy went off on Tyga on Sunday night (Feb 24th) in a rant on Twitter where he dissed Tyga stating:
"I fucked yo baby mama and played Fortnite with yo son,"
The "Crank That" rapper then took to Instagram and posted a photo of Tyga getting kicked out of Floyd Mayweather's party Saturday night.
In addition, Soulja Boy tweeted "Me and Blac Chyna could neva work she like niggaz like Tyga lol."
The whole beef started when Soulja Boy dissed Tyga during his Breakfast Club 105.1 interview. Charlamagne The God suggested that Tyga had the best comeback of 2018 but Soulja mocked him saying "The ni**a that lost his b*tch to Travis Scott?". He then followed on to say "The ni**a that Travis Scott nutted in a b*tch and got her pregnant?".
Tyga retaliated by posting 2018 Spotify stats, which showed Tyga had 884 million streams in comparison to Soulja Boy's 98 million. He captioned the stats with "Who had the biggest comeback?!" and wrote three crying laughing emojis.