Social Media Thinks Tyga's New Song Sounds Exactly Like Drake's 'Controlla'
23 June 2016, 11:05 | Updated: 23 June 2016, 19:51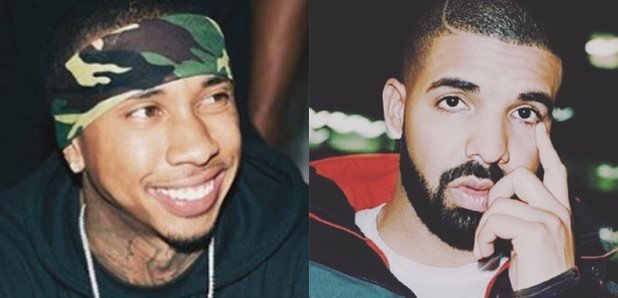 Do they sound similar?
Following his recent break-up with Kylie Jenner, Tyga has released a new Reggae-themed single called '1 Of 1'.
The 'Rack City' rapper glides over the uptempo beat with a combination of rapping and singing.
Listen below:

The song is reportedly taken from Tyga's upcoming mixtape 'B*tch I'm The Sh*t 2'.
However fans on social media have noticed an eerie resemblance to Drake's 'Controlla'.
Tyga just going to trace over "Controlla" and put it out as his own record huh? It's called one of one but nah we heard this before.

— Charlamagne Tha God (@cthagod) June 17, 2016
Why does Tyga new song 1 of 1 sound exactly like Controlla by Drake.??

— a_rastawan (@a_rastawan21) June 23, 2016
Tyga new song "one on one" sounds like a copy cat of Drake's "controlla"

— the black sheep (@zakeise) June 22, 2016
So we just gonna ignore the fact that Tyga's new song 1 of 1 sounds like a great value version Controlla??¿¿

— Keith Mwangi (@K31thM) June 21, 2016
Tyga wants to b Drake so bad.. just like how Drake used a Beenie Man sample in Controlla. He randomly threw in a Mr Vegas sample in his song

— DJ Akademiks (@IamAkademiks) June 16, 2016
Some people have even began trolling Tyga's Instagram comments with controller emojis.

Listen to Drake's 'Controlla' below:
Drake and Tyga infamously feuded in the past after Tyga accused Drizzy of being 'fake' in an interview with VIBE magazine.
In turn, Drake fired back with some harsh lyrics on his track '6PM In New York'.
Despite Tyga recently claiming there are no longer issues between the pair, their relationship is still rumoured to be frosty.
Is there a similarity between the songs?