People Are Truly Disgusted After Seeing Tyga's Explicit New Album Cover
23 January 2018, 11:25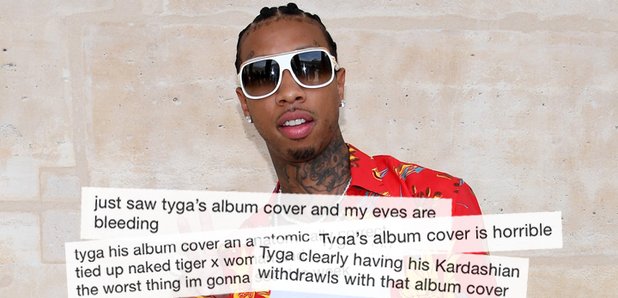 "My eyes are bleeding".
Tyga has revealed the official artwork for his upcoming album 'Kyoto' and it's grossing some people out.
The cover, designed by cult Japanese artist Hajime Sorayama, features a bizarre half-woman, half-tiger figure lying completely naked with her underwear pulled down, exposing herself.
The ex-boyfriend of Kylie Jenner posted the image on Instagram, adding: "This album is me opening my heart to you and I hope you enjoy it and love it as much as I do."
(Warning: The following image contains nudity that may not be suitable for the viewing of younger audiences.)
Sorayama is renowned for his detailed, erotic portrayals of feminized robotic-style bodies, and Tyga is obviously a fan.
Fans soon took to Twitter to share their thoughts on the somewhat surprising artwork, and many were left in disbelief and disgust.
"There is absolutely NOTHING dope about Tyga's new album cover," wrote one user, "WHAT IN THE F*CK WAS THAT?"
bruh this can't be the cover to tyga's new album pic.twitter.com/UEgcKZz1va

— rap is stupid (@ottergawd) 22 January 2018
just saw tyga's album cover and my eyes are bleeding

— (@besmaam) 23 January 2018
tyga his album cover an anatomically correct tied up naked tiger x woman and its probably the worst thing im gonna see this week

— samuel (@racetrayter) 23 January 2018
Tyga clearly having his Kardashian withdrawls with that album cover

— Battousai (@SoZoJermz) 22 January 2018
EXCUSE ME, HAVE YA'LL SEEN THE NEW TYGA ALBUM COVER? THIS MAN IS ON SOME NEXT LEVEL SHIT LIKE WHAT THE FUCK IS THIS. WHY CAN I SEE THIS THINGS BOOTY HOLE? THIS IS NOT OKAY TYGA pic.twitter.com/82Dn3TlGTI

— Robert (@RobertBlazevic2) 23 January 2018
This is the cover of @Tyga 's new album.Its clearly disrespectful to the Japanese flag..whats wrong with Americans these days ?? First @LoganPaul and now @Tyga ..... pic.twitter.com/XdcjfXBUUX

— $heikh MONEY Adnan (@Dopeman__14) 23 January 2018
In constrast, however, some users did have some words of praise.
The cover art for the upcoming @Tyga project is so dope

— Dec Trilla (@declan_harris) 22 January 2018
.@Tyga just dropped the hottest album cover in years.

— Yayo (@yimmyayo) 23 January 2018
'Kyoto' is set to drop on 16th February.