Kylie Jenner Leaks Tyga Diss Track, Claims 21 Savage Sucked Drake's 'D*** For A Ferrari'
5 December 2016, 10:57 | Updated: 5 December 2016, 11:06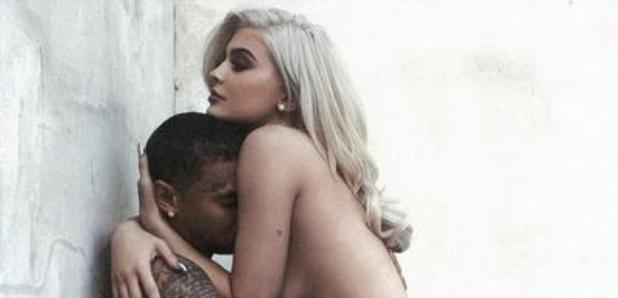 The beef continues.
Kylie Jenner has leaked a preview of boyfriend Tyga's new 21 Savage diss track, in which he claims the rapper sucked Drake's "d*** for a Ferrari".
Tyga's beef with 21 has been developing over the last week, after both Savage and fellow rapper Future professed their admiration for the youngest Jenner.
With the pair both claiming they would 'tear' Kylie's 'a** up', it looks like Tyga is not pleased with the comments relating to his beau.
Kylie Jenner proceeded to post a sneak preview of Tyga's upcoming diss track 'No Heart' on Snapchat - and he's not holding back.
"Why you got one car in a 12-car garage? Sucking d*** for a Ferrari don't forget to lick the b****," Tyga spits.
The line is an obvious reference to the Ferrari that Drake bought 21 for his 24th birthday last month.
Kylie Jenner just previewed Tyga's remix of "No Heart" 21 Savage diss pic.twitter.com/oyIrSWwmXn

— HIP HOP FACTS (@iDailyRapFacts) December 3, 2016
However, the video didn't get past 21 Savage, who directed some shots at Tyga during a recent live performance.
"So what's with all that Instagram s***, Tyga?" he asked, before posting a photo of his crush Kylie on Instagram, captioned 'shoutout to my boss b****** wifing n****s.'
"so wassup with all that Instagram shit Tyga?" @21savage @Tyga pic.twitter.com/DSdsa4tIVO

— alicia calvo (@Aliciaacalvo) December 3, 2016
The caption is a direct quote from Drake's 'Back To Back', a diss track aimed at Drizzy's long-term rival Meek Mill, with this line in particular nodding to Meek's girlfriend Nicki Minaj.
Both Meek and Nicki spotted the post, with the rapper 'liking' the snap whilst Nicki commented 'Bars' with a flame emoji.
And, not one to be left out, Kylie Jenner herself also waded in on the unfolding drama.
After one user commented on the apparent 'thirsty' nature of 21's actions, the lip-kit mogul simply commented "Cuz that's what b*****s do" with a passive aggressive smiley-face emoji.
Finally, in an attempt to dissolve the situation, 21 posted on Twitter that he believed the beef had gone 'too far'.
it ain't dat serious mf posting old ass videos this shit done went to far it was funny at first

— La'Savage (@21savage) December 3, 2016
The tweet that started it all is still live on the rapper's Twitter - a photo of Kylie captioned with heart-eye emojis, before adding comments that she needed a 'real savage'.
@KylieJenner pic.twitter.com/CcGBNzIGx0

— La'Savage (@21savage) November 22, 2016
Both Kylie and Tyga are yet to comment on Savage's recent attempt to reconcile.
The pair have been partying in Miami recently for Art Basel 2016, renting out a luxurious mansion during their stay.