Fans Are Convinced Tyga Is Kylie Jenner's Baby Daddy After Seeing His Latest Post
26 March 2018, 10:45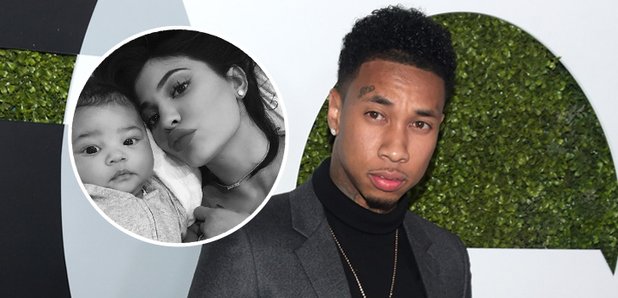 The rapper's latest move has got people talking.
Tyga is dropping hints left right and centre as fans believe his latest post proves him to be the father of Kylie Jenner's baby.
Over the weekend, the LA rapper shared a throwback baby photo of himself just hours after his ex-girlfriend posted new photos with her one-month-old daughter, Stormi Webster.
After the reality TV star, who shares her newborn with rapper Travis Scott, and her ex-beau posted the images consecutively, fans commented on an apparent resemblance between Stormi and young Tyga.
"You can't tell me Kylie's baby does NOT look like Tyga" wrote one user.
Every time Kylie posts a picture of her baby, Tyga posts one of his baby pics. pic.twitter.com/zkIFVtQbmr

— Killmonger Hive (@axolROSE) 23 March 2018
Tyga posted a picture of him as a baby after Kylie Jenner posts Stormi and I..... well ok then. pic.twitter.com/fZoSH4Er2f

— (@SunnyBunny_54) 23 March 2018
You can't tell me Kylie's baby does NOT look like Tyga pic.twitter.com/mDtJ0pLjWk

— Alina (@alinathequeenx) 23 March 2018
This isn't the first time Tyga has appeared to question the paternity of Kylie's child. Soon after news of the pregnant broke, he took to Snapchat to claim that the child was his.
Following the birth of Stormi, Tyga reportedly demanded a paternity test over the child "because he really thinks that there is a chance this baby could be his."
Last week, Kris Jenner took to the airwaves to dispel rumours concerning the parentage of Stormi, denying the claims made by Tyga.
Following the release of his new album 'Kyoto', fans were convinced that the rapper was referencing his highly publicised break-up with Kylie on the song 'U Cry'.
Kylie is yet to comment on the rumours.