Tyga's Forgotten 21 Savage Diss Track 'Quarter Milli' Leaks Online
23 May 2019, 11:42 | Updated: 23 May 2019, 14:46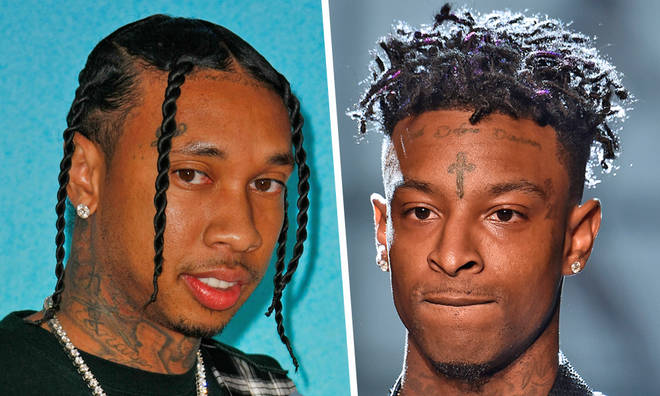 Tyga made a diss track aimed at 21 Savage several years ago, however it never surfaced online until now...
Only a short few years ago the world we know was a very different place - Tyga was dating Kylie Jenner and a young up & coming rapper by the name of 21 Savage was starting to make a name for himself with some big statements.
Well some of those statements made by 21 Savage were aimed at Tyga's relationship with teenage Kylie Jenner and the 'Rack City' rapper wasn't too happy with them at all, so decided to make a diss track called 'Quarter Milli'.
Tyga 21 savage diss is brutal to listen to.🗑

— Bottom⚜Boy (@RollsRoyceRob) May 22, 2019
Despite Kylie teasing it at the time, Tyga never actually released the song and it lived on only in the memories of Hip Hop superfans around the world... until now.
Somehow Tyga's 21 Savage diss track has managed to leak online and the lyrics in parts are seriously brutal. Tyga can be heard calling out 21 for allegedly getting a Ferrari from Drake in parrts, whilst the fact he uses the instrumental for 21's huge track 'No Heart' certainly makes this a meaty response.
The Drake lyric which has caught everyone's attention heras Tyga say, "Why you got one car in a 12-car garage/Sucking d*** for a Ferrari, don't forget to lick the b".
He also calls out other up & coming rappers of the time and says, "I've been rich for like ten years, I pray all you new n*ggas get here/ I pray all you new rappers get you a b***** where every rapper d*** ain't been yet".
Tyga was doing so well with the comeback and now he wants to diss 21 Savage, sigh

— Ramón (@armizzle_) May 22, 2019
The source of the leak has not been revealed yet, however after it emerged on YouTube the video was quickly removed due to copyright, however with the internet and social media being what it is these days footage is still floating around.
> Download Our Free App For All The Latest Music News!