Tyga Appears To Address Kylie Jenner Break-Up On New Love Song 'U Cry'
16 February 2018, 09:54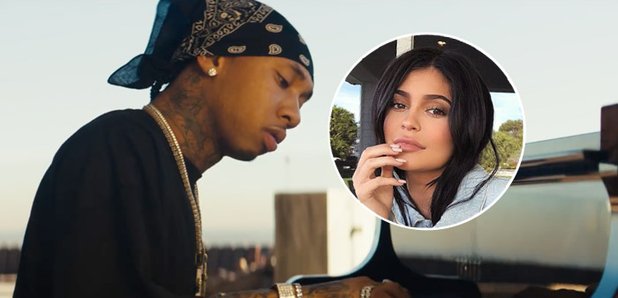 Fans are convinced the song is about his ex-girlfriend.
It's been a matter of hours since Tyga released his new album 'Kyoto', but people are already dissecting its lyrics and searching for hidden meanings.
One song, a romantic ballad titled 'U Cry', has been a topic of discussion with fans online as the rapper appears to reference fallout of his relationship with ex-girlfriend Kylie Jenner.
The song, which samples Aaliyah's 1994 classic 'Back & Forth', hears the 28-year-old California native open up about the heartbreak of a failed romance.
"Yeah we always go back, back, forth and forth," Tyga sings, "Every time you go out, yeah, it gets you nowhere."
"On lonely nights, you callin' me, but so many days you're ignoring me," he continues, "Tell me I don't have to worry about those guys now,
I get insecure."
"But your words hit hard when we fight," the rapper adds, "We could be good without the byes."
Fans took to Twitter in support of Tyga following the release of the melancholic track, which was accompanied by a music video, linked below.
I'm completely sure that "U cry" is about Kylie. So sad but is a beautiful song. Congrats @Tyga

— Incorrecta (@JeimyArguello) 15 February 2018
U cry by Tyga is 100% about Kylie and I'm dying inside

— (@xo_jo93) 15 February 2018
Tyga's new song 'U Cry' is obviously about Kylie and I love it

— Rachel (@whaddup_rach) 16 February 2018
Am I trippen or is Tyga's new album for Kylie? " U cry" made me miss Kyga.

— keeks (@sweeeetlikekey_) 15 February 2018
Tyga, who dated the Kylie Cosmetics owner on-and-off for two years, has allegedly demanded a paternity test over the his former beau's new baby.
Kylie gave birth to a daughter, Stormi Webster, with rapper Travis Scott on 1st February this year following months of speculation.
Tyga's new album, 'Kyoto', is available now to download, stream and purchase.