The Weeknd Drops Hint About Joint Drake Album
26 November 2016, 17:25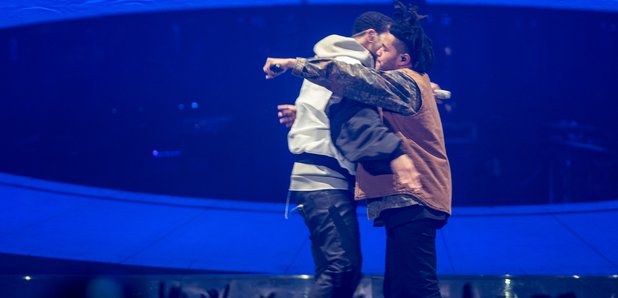 OVOXO.
The Weeknd has dropped a huge hint about collaborating with Drake in the future.
The Canadian pair, who famously worked together on Drake's second album 'Take Care', were rumoured to be feuding after The Weeknd refused to sign to OVO.
However in a new interview, The Weeknd has finally clarified their relationship.
"[Drake] came in as my big bro and showed the world what I could do," he said.
"From then on, he's always been supporting me and I've always been supporting him.
"Behind the scenes, we're still very close but it's cool that the world can see us doing our own thing. OVOXO will always be there."
When asked about whether there would ever be a joint album featuring Drake and The Weeknd, he said: "Maybe. Why not?
"It's cool to have both monsters work together as opposed to one monster and one little guy coming in," he continued.
"It's dope, like Kanye and Jay Z, when [Watch the Throne] happened."
Meanwhile, following the release of his new album 'Starboy', Drake showed his support on Instagram.

"[Drake's] the homie," The Weeknd continued. "At the end of the day, that's my guy. Oliver, 40, all of Toronto.
"There wouldn't be any new artists from there if it wasn't for Drake making Toronto cool because it wasn't cool. Let's be honest. Canada wasn't ever cool."
Meanwhile, Drake is rumoured to be finishing up his upcoming playlist project 'More Life', which is set for release in December.