Tekashi 6ix9ine Child Sex Case 'To Be Removed' From Upcoming Trial
2 September 2019, 11:44 | Updated: 2 September 2019, 12:15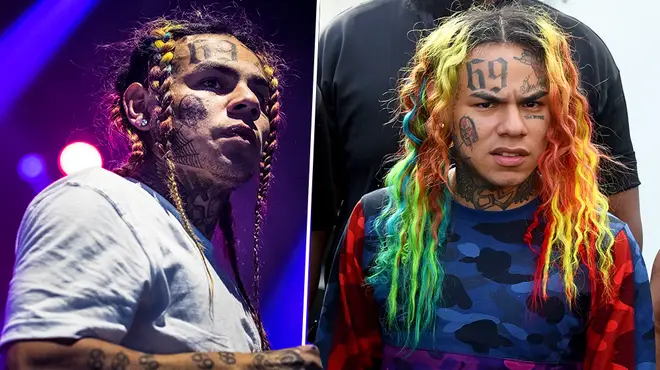 The government has requested for Tekashi 6ix9ine's defence lawyers not to bring up his 2015 child sex case in the upcoming trial.
Tekashi 6ix9ine is allegedly set to be a witness and at the upcoming trial of two of the men arrested in his federal racketeering case. However, an attorney reportedly wants to keep his 2015 child sex case out of the courtroom.
However, it appears the government is trying to keep certain aspects of the controversial rapper's past off the witness stand. An attorney working on the case believes
According to Complex, court documents reveal that US Attorney Geoffrey Berman has asked for Judge Paul Engelmayer, to prevent defense lawyers from asking 6ix9ine about his 2015 child sex guilty plea.
The child sex case dates back to February 2015, when then-18-year-old 6ix9ine, several other men (only one, Taquan Anderson, was charged), was involved in sexual activity with an 13-year-old girl.
In the court documents, Berman said that 6ix9ine (identified only as "CW-2" for "cooperating witness") "is expected to testify about various acts of violence that [he] participated, learned about, and/or directed" at the upcoming trial of Aljermiah "Nuke" Mack and Anthony "Harv" Ellison.
Berman argues that the details of the 2015 case are likely to prejudice the jurors and have no direct link with the case at hand.
The court documents read "[T]he Government respectfully requests that defense counsel be precluded from cross-examining CW-2 regarding...an October 21, 2015 conviction in New York County Supreme Court of Use of a Child Less Than 17 Years of Age in a Sexual Performance," it reads.
"The October 2015 Conviction is likely to cause a jury to unfairly discount CW-2's testimony due to feelings of disgust concerning the underlying conduct. Cross-examination about this topic would be inappropriate because it would be substantially prejudicial, entirely nonprobative of any relevant issue, and irrelevant to testing the truthfulness of CW-2's anticipated testimony."
According to a police complaint in the 2015 child sex case, 6ix9ine "stands behind the child making a thrusting motion with his pelvis and smacking her on her buttocks".
6ix9ine pleaded guilty that October, and received two years to fulfill a number of conditions in order to avoid prison time. In October 2018, 6ix9ine was sentenced to four years of probation for the case.