Tekashi 6ix9ine's Baby Mama "Forced To Hand Over $1,000,000 Jewellery" In Leaked Video
25 September 2019, 11:12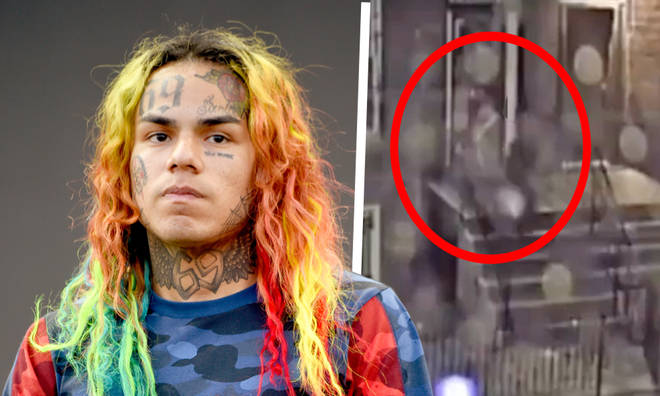 Footage has emerged online which reportedly shows Tekashi 6ix9ine's baby mama handing over $1 million of jewellery during a kidnapping.
Tekashi 6ix9ine has been in court for the past few weeks as he testifies as part of a trial which has seen him accuse two former Nine Trey Bloods gang associates of kidnapping him back in 2018.
Whilst the trial has so far seen video emerge which allegedly shows the moment Tekashi 6ix9ine was forced from the car he was travelling in, a new video which has been shared on social media reportedly shows the rapper's baby mama handing over jewellery.
Posting the video on his Instagram account, Hip Hop personality and close friend of Tekashi 6ix9ine, DJ Akademiks wrote, 'Footage is released of #tekashi69 kidnapping and when the kidnappers pulled up to his crib and his baby mama had to bring down $1,000,000 in jewelry and give it to the kidnappers to save his life'.
The claims which Akademiks makes about what the footage shows are currently unverified by official sources, however Akademiks has posted regular updates on 6ix9ine's case throughout the trial following his September 2018 arrest.
Tekashi 6ix9ine's baby mama Sara Molina has yet to speak out on the claims that she was featured in the clip, however she has previously climaed that the 'Dummy Boy' rapper also has a secret child by another woman.
Tekashi 6ix9ine has cooperated with the police since his arrest and reports have suggested that he could be released and moved to a witness protection programme as early as 2020.
The rapper's cooperation has not gone down well with a wide section of the Hip Hop community with rappers such as Snoop Dogg and Meek Mill calling out the rapper for 'snitching'.
The trial contiunues.
> Download Our Free App For All The Latest Music News!