Stormzy Reveals More Details On Police Break-In Incident - WATCH
20 February 2017, 10:36 | Updated: 20 February 2017, 10:38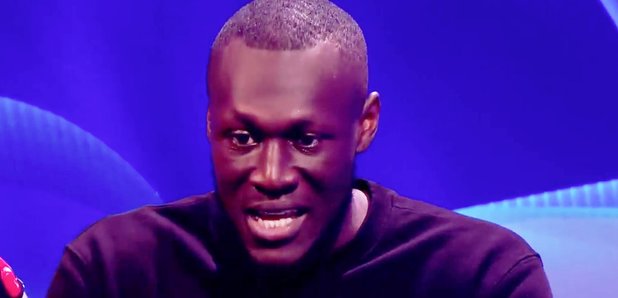 "I thought I woke up in a movie."
Stormzy has spoken out about his recent police break-in incident.
The 'Big For You Boots' rapper accused the Metropolitan Police of destroying his front door on the belief that he was a burglar last week.
Stormzy, real name Michael Omari, claimed that the front door of his Chelsea home was smashed down in the early hours of Tuesday morning.
In an interview on Channel 4's 'The Last Leg', the Grime MC opened up about the bizarre event.
"I was just sleeping and then 'Bang, bang, bang!'… you know how it goes."
"I thought I woke up in a movie. They were banging on the doors, [there were] dogs... "Police! Police!""
He's nominated as a breakthrough artist, but @Stormzy1 has also been mistaken for a break-in artist... #TheLastLeg pic.twitter.com/CP0Ner6Z0l

— Channel 4 (@Channel4) February 17, 2017
Stormz explained how he wasn't in his usual attire prior to the incident.
"D'you know what the craziest thing is? Usually, I'm always in tracksuits, but that specific day I was in a suit. A Burberry suit."
"So I was like "Today I'm not having it.""
The rapper posted an image of the damages on his Twitter account shortly after the break-in occurred.
Woke up to Feds destroying my front door coz apparently I'm a burglar who burgles his own home. @metpoliceuk need your bank details still pic.twitter.com/fGH1fsePHv

— 24/02 (@Stormzy1) February 14, 2017
Upon being asked whether he thought there was a racial undertone to the alleged attack, Stormzy said he "wasn't too sure".
"I'm new to the area," he said, before explaining he is now more wary of his neighbours than before.
"Every time I pull up outside my house, I jump out my car and I'm looking at everyone like "Which one of you d*ckheads…""
The Met Police later stated that they were responding to "a report of a conspiracy to burgle", before eventually finding "two lawful occupants" inside the Chelsea property.