EXCLUSIVE: Stormzy Reveals His Upcoming Tour Is "Going To Be Incredible" - WATCH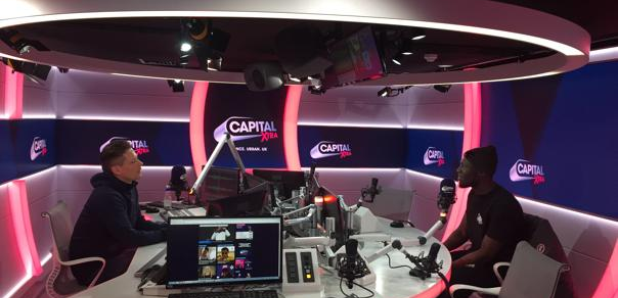 Watch the full interview with Jez.
Stormzy has revealed more details about his upcoming UK tour, as well as talking all things 'Gang Signs & Prayer', 'Big For Your Boots' and more.
In an interview with Jez Welham on Capital XTRA In the Morning, the UK rapper explained how he planned his long-awaited return to music.
"We just wanted to come back in the sickest way possible," the Grime star said. "This is a new chapter, a new campaign, a new energy... a new Stormzy, almost."
Watch the full interview below:
With his debut album 'Gang Signs & Prayer' set for release later this month, Stormzy explained the sort of thing we can expect to hear on the hotly-anticipated record.
"The album is a very personal, honest, true, raw, authentic representation of myself musically," he revealed.
"If you don't know Stormzy, you should be able to listen to this album, and afterwards, you know me."
After a 5 month social media hiatus, Stormzy, real name Michael Omari, admitted he was taken aback by the amount of love he received from his fans during his absence.
"I missed talking to my supporters - the people who love my music and see my shows," he said.
"I noticed later on into my hiatus that a lot of people genuinely missed me! I didn't ever consider that. I just thought "Bruv, I've gotta go!""
The South London native has come along way since his underground days, but the 23-year-old hasn't forgotten his roots.
Quite the opposite, in fact - Stormzy added that he took inspiration from his younger self when creating the album's lead single 'Big For Your Boots'.
"I was so hellbent on finding a record where I felt like I could be old-school Stormz - which is so weird because I'm not a veteran," he said.
"When I was 17, the way I used to spit was a lot more unpolished. Now, I understand music a lot more and I understand how to make a record."
"But back then, there was a rough diamond element to it. I wanted to make a record like that."
2017 got off to an incredible start for the rapper. It took a mere matter of days for his recently announced UK tour to sell out, including three dates at London's Brixton Academy.
Omari was quick to express his gratitude for his loyal supporters.
"For someone to buy a ticket and say "I want to see you do what you do best", that's not to be taken for granted," he said.
"It's an honour, I was grateful."
And it sounds like Stormz is pulling out all the stops for his upcoming shows.
"It's going to be incredible," he exclaimed, "I'm really focusing on upping the levels in terms of my production, my stage energy, everything.
"I want it to be one of the best live experiences anyone's ever been to - and not just for a grime show. I'm going to make this a special one."
'Gang Signs & Prayer' drops 24th February.